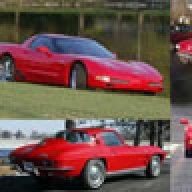 Joined

Oct 11, 2003
Messages

1,895
Location
Corvette

15 Z06, 01 Vert, 63 SWC & 60 ALL RED
Have been promising for some time photos of my exhaust system. Bought the pipe and the chambered exhaust from Allens Exhaust out of Indiana. Good vendor to do business with.
Also bought the hugger headers from a vendor on Ebay. I am hoping I don't come to regret getting these. They were only about $80 as compared to almost $500 for something similar but a brand name from Summit. Like I said, I hope I don't regret it later.
Here are the photos.....had to modify the bracket slightly as well as the length of the SS pipe. The exhaust is 2.5" SS, 14 gauge! 14 gauge holy crap!
the pipe tucks under the frame in the front and does not hang as low as the bottom of the McCleod bell housing and scatter shield. You can see it hanging down (the gold colored radiused part behind the oil pan).
the hugger headers came with a short chrome piece. I was able to tack weld the SS pipe to it and then took it to my trusty fabricator that really weleded it! they laughed at my chicken pecking welds.
The exhaust sits under the car. There is about 9 inches between the frame rail and the outside of the car. That is where this chambered exhaust sits. When the body is on the car, you can't see the chambered exhaust unless you stick you head down under the car. It tucks up very nicely.
Allen suggests turning the exhaust slightly outward to avoid having the exhaust kick up dust back under the car.
The exhaust tip is right in front of the rear tire. I put the body back on the car before I sent it off to the body shop to make sure that this would look ok and have enough clearance every where. There might be a few places that I need to make some more clearance by using the old socket and hammer tirck. But for the most part everything clears just fine.
Stay tuned...more photos coming....
regards, Herb