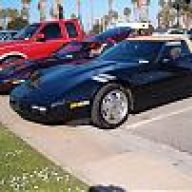 Joined

Dec 14, 2003
Messages

116
Location
Corvette

1989 DARK BLU METALIC SIX SPEED CONV
Just finshed install of flowcooler water pump, shaw 180 t-stat, and new coolant. My idle speed has increased to 1100 rpm and the radiator fan does not turn on (would i get codes if bad fan relay?) on at any point, even after 30 minstes of driving. I'm wodering if my t-stat is installed wrong (oriented with the point down vice up) because upon start-up with, the radiator cap off, the radiator warms and the fluid is visbily moving through radiator. Upon warming to operating level, the fluid is being expelled from the radiator (fan never activates and no overheat warning via the dash).

I'm going to check my t-stat orientation in the AM, but what indication would I get if the t-stat were installed upside down?

Is is there a requirement to upgrade the radiator cap to something more than the stock psi (currently running a 17lb cap) when installing a High Pressure water pump?