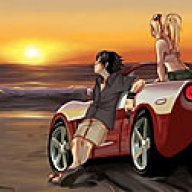 Site Administrator
Staff member
Administrator
Joined

Sep 16, 2000
Messages

13,887
Location
Corvette

1990 Corvette ZR-1
Garages go gigantic: Car buffs opt for bigger spaces

Amy Orndorff / Special to The Washington Post
At first glance, there's nothing unusual about Brian Carroccio's three-bedroom, two-bathroom home in Rockville, Md. But just behind the house, at the bottom of the sloping driveway, is a garage so mammoth that if it were attached to the house it would dwarf it.
The two-story, nine-car garage consumes the modest back yard behind the one-story rambler. There isn't a blade of grass to be found, and that is just fine with the high school math teacher.
Besides being just a spot to store cars, ``it has become a bit of a gathering place,'' said Carroccio, 30. His father and uncle join him there weekly to work on the family's growing car collection.
While some home buyers covet granite countertops, hardwood floors and emerald lawns, Carroccio and fellow car enthusiasts care about having somewhere to house and tinker with their cherished automobiles. Their wish list might include an air-conditioned work area complete with an engine crane, a large sink and a sand blaster to clean old parts.
According to 2004 Census Bureau statistics, 19 percent of new single-family homes had a garage for three or more cars. Earlier surveys didn't even have that category, asking only about garages for two or more cars.
It sometimes seems all that space is not even used for cars, but for stuff. Homeowners can spend as much as $20,000 on new cabinets, customized storage racks and color-coordinated, stain-resistant flooring, making the humble garage the latest place for homeowners to show off their wealth.
But for Carroccio and other car enthusiasts, buying a house with a large garage, expanding an existing garage or even adding custom-designed space is more necessity than status symbol. A garage protects cars from exposure and thus increases their resale value. For this reason, popular auto magazines such as Hemmings Motor News have a special section of real estate classified ads devoted to properties with large garages.
``Better shape means better value,'' said John Powell of Bowie, Md., who owns a landscaping company and a nine-car garage. But even though their cars might be worth a lot, who really wants to sell them? ``I will get rid of them when I quit breathing,'' Powell said, and then ``they will become my children's.''
Before Carroccio moved in last winter, he and his father, Charlie, 57, and his uncle Paul, 47, tucked their antique cars in various garages around Maryland, including one at Charlie Carroccio's law office. They shuttled between the various garages and spent more time getting to their cars than working on them.
When Carroccio bought his house and its 1,748-square-foot garage, he laid out three separate rooms, each with a designated purpose. One room serves as storage for two cars not being worked on, and a second is the workroom, with space for two vehicles. The third area, now affectionately referred to as ``the showroom,'' is home to five cars. The walls are covered mostly with British automotive paraphernalia, a salute to the homeland of many of the Carroccio cars.
The workroom is stocked with just about everything an amateur mechanic would need, including an engine crane and a mini refrigerator. Now the family is able to spend more time in the garage working on their projects--a 1918 Ford Model T and a 1980 Triumph Spitfire.
``I just never had a place to work on it,'' Charlie Carroccio said of his beloved Spitfire, which at one time sat in his law office garage. ``There is always something to do.''
When Leonard and Patricia Paquette of Woodbridge, Va., were shopping for a home in 1991, one of the items on their must-have list was a three-car garage.
The Paquettes are members of the Bull Run Region of the Antique Automobile Club of America, and their hobby is restoring classic cars. Before finding their current home, the couple worked on restoring their 1966 Mustang convertible in a cramped one-car garage.
``I needed more room,'' said Leonard Paquette, 52, a production engineering manager. ``I am not going to put a rusty something sitting (outside) on blocks. ... I want to get along with the neighbors.''
The couple met while working at a Lincoln dealership and share a love for cars. Their Mustang is nearly identical to the car Patricia Paquette had in college, and the 1956 Thunderbird is from the year she was born. The couple said the cars mark important moments in their lives, and that's why they go so far to pamper them.
So when they decided to build their Woodbridge house, they paid extra for a third bay on the attached garage. A mechanic in his youth, Leonard knew exactly what he needed: a large sink, ample space to store tools and the ability to wire an air compressor from the basement.
Adhering to county zoning laws, the couple had to enlarge their house to add the third garage bay.
``In this county, in order to get that much space, you have to have a lot of house,'' said Patricia, who works for the Army Corps of Engineers. ``So we don't live in a lot of this house. We have four bedrooms, but we don't need four bedrooms.''
With more projects than their original three-car garage could handle, the couple added an unattached three-car garage in 2003. The second space now serves as home for a restored 1929 Ford Model A, their next projects (1956 and 1963 Thunderbirds) and the occasional antique car club meeting. The new garage is immaculate, with room for an engine crane and a second story for storage. The couple insisted on large, second-story windows for natural lighting and reinforced concrete in the middle to accommodate a future car lift.
One thing is strikingly similar about the Carroccios' garage and the Paquettes': There isn't a lawn mower, trash can or bicycle to be found. For those things, each family has built a separate shed.
Source:
http://www.detnews.com/apps/pbcs.dll/article?AID=/20060902/AUTO03/609020303/1121/AUTO