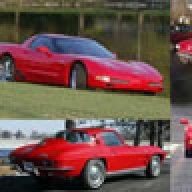 Joined

Oct 11, 2003
Messages

1,895
Location
Corvette

15 Z06, 01 Vert, 63 SWC & 60 ALL RED
We got the car stripped of its goodies thoday...or at least enough to get her to the body shop and get them started. They are going to media blast it then we are going to sort out how many hours of labor are hidden underneath that paint.
Sharon got after the dash area after we got the other pieces in the area off. Got it cleaned up enough for us to move on to the next stage.
Special thanks to my girl couldn't have gotten everything done this weekend without her!!!
then on the trailer and ready for the trip to the body shop tomorrow....
we strapped the doors closed..oh yea, I was sweating my butt off trying to get this done TODAY!
Strapped on and ready for a quick run around the block to make sure all is tight and ready for the trip tomorrow...
I sure like those Junk Yard Dog Wheels!!!! Looks funny without the windshield!
The body shop and I will pull the body off the frame tomorrow and I will bring the frame and motor back home for more finishing work on it. When the underside is all painted, I will take the frame back to the shop where they will drop the body back on, get the shims in all the right places to fix the gaps and such. Then they will tape off everything and shoot the top coat and clear coats.
Right now the goal is to have this baby back home around Christmas....then I need to get it wired and a whole bunch of other stuff...Goal is for end of May, getting ready for June 2nd Hot Rod Power tour leaving Cleveland heading to Michigan! I want to be there!
Stay tuned!