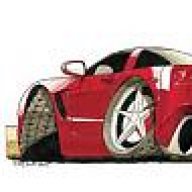 Joined

Aug 30, 2004
Messages

579
Location
Corvette

'07 Monterey Red/Cashmere Vert
Well, I guess it had to happen sooner or late, my first post with a problem. Here goes. (Hope C4C5specialist is out there)

Couple of weeks ago I took the pride-n-joy to the beach. About a 65 mile trip 1 way. Car ran great, air was cool, couldn't ask for a nicer night. About 3/4 of the way there, I get the dreaded check engine light. I eventually come up to a restaurant, pull in, and turn the car off. I let it sit for a few minutes, start it up and all is fine and I continue to my destination. Now, I did get into the throttle for a bit, but nothing harsh. No, I had a brain fart and didn't check for codes.
A couple days later on my way home, I have to stop for a traffic light. I stop, it turns green, I go, but at about 1300rpm the engine feels like it's not getting gas or 4 of the 8 injectors or cylinders just cut out. Check for codes this time and nuthin'. Almost as if it's being limited/retarded somehow. I pull over, blip the throttle and all is fine again. This problem has been happening only when I start out from a stop or slow roll. Doesn't matter if the engine is cold or hot.
Took the car to the dealer last Friday. Thank goodness I have the GMPP!!
They had the car all day, reproduced the problem at their will and nothing shows on the "Tech 2". Replaced "pancake" switch in tranny, tried a new tach module, checked to see if I had bad gas (in the car), nuttin!! Now the tech 2 did show something to the effect of the tranny switching from park to neutral while the car is in motion. The problem doesn't seem to be as bad now that I have it back. Car still isn't fixed, couldn't leave it over the weekend. Car goes back 8/22 so the dealer can have it longer. One of the tech's seems to think it may be a valve body(?) in the tranny???

Sorry for the long drawn out explanation, but ANY help would be appreciated!!

Thanks!!