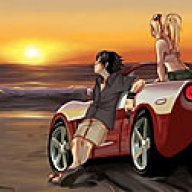 Site Administrator
Staff member
Administrator
Joined

Sep 16, 2000
Messages

13,790
Location
Corvette

1990 Corvette ZR-1
GM investigates leak of photos of possible Corvette supercar
The Detroit News
Thursday, February 22, 2007
General Motors Corp. is investigating how photos of a vehicle identified as a top-secret, super high-performance Chevrolet Corvette showed up on several Web sites Thursday.
Several photos of the Corvette that showed both its exterior and engine began appearing Thursday on auto enthusiast Web sites such as Autoblog.com, Jalopnik.com and thegmsource.com. It's unclear where the photos were first posted.
The car was identified as a prototype of the 2009 Corvette SS, a 600-plus horsepower supercar dubbed by some as the "Blue Devil" after GM CEO Rick Wagoner's alma mater, Duke University.
GM spokesman Terry Rhadigan confirmed that GM is investigating a possible "breech of security" but would not confirm the vehicle in the photos was a Corvette supercar prototype. "We don't comment on future products," he said.
He said GM believes the photos were snapped in Romulus by an employee of a transport company that was in the process of shipping the vehicle.
Rhadigan said GM could not confirm numerous Web reports that the employee was arrested Thursday by Romulus police. A Romulus police spokesman declined to comment Thursday night.
"We acted on what was an alleged breech of security," Rhadigan said. "We are still piecing it all together."
The Internet has been abuzz in recent weeks with speculation about GM's rumored development of a 600-plus horsepower Corvette supercar. GM Vice Chairman Bob Lutz hinted in January that such a car was in the works, but it has not been officially announced.
Automakers have struggled in the recent years to keep a lid on photos of cars in development as Internet sites aimed at auto enthusiasts have proliferated.
"We do take it seriously," Rhadigan said. "We are a car company that has a lot of confidential future products in various stages of development. We rely in security to keep those products confidential."
GM is asking some Web sites to take the photos down, Rhadigan said. Autoblog.com said on its site it removed the photos out of fear of incurring GM's wrath.