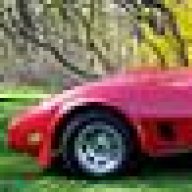 Joined

Jan 20, 2004
Messages

67
Location
Corvette

1980 Corvette
Hi again, I'm starting to look for a good set of performance heads for my 1980 l-48. I was on Jegs.com and saw these,
http://www.jegs.com/cgi-bin/ncommerce3/ProductDisplay?prrfnbr=427383&prmenbr=361
. Would these be over kill on the stock engine? Right now I want to do heads, cam, intake and carb with the stock engine, later on I will put in a short block but for right now I just wanna have a little more fun with the car. I've looked at the original vortech heads for a while now,
http://www.jegs.com/cgi-bin/ncommerce3/ProductDisplay?prrfnbr=4242&prmenbr=361
, and they look like a good bargane. Which of these 2 heads is the better buy?
Large port Vortech Heads
- 2.00'' hollow stem intake valve
-1.55'' sodium filled exhaust valves
-The deck surface is .450'' with 65 cc combustion chambers
-206 cc intake runners and 77 cc exhaust ports
-Can handle up to .530" lift cam
Regular Vortech Heads:
-1.94'' intake valves
-1.50'' exhaust valves
-170 cc intake runners
-64 cc combustion chamber
-.475" max lifting cam
For the regular votech heads I see that you need to buy self alighning rocker arms, what exactly are these? Do I need different length pushrods? For any one who has put these heads on before, I would greatly appreciate any input to how you like them, how they fit up with the stock accesory's (alternator bracket + A/C bracket). I'm guessing the static compression ratio would be around 9.0:1 or so? Just estimating, what would the hp and tq for the engine be with these heads, a decent cam, intake, carb and long tube headers w/ no cats? Sorry for all these questions, I would appreciate any help guys/gals!
Thanks !!!!
Zack