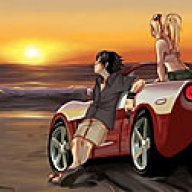 Site Administrator
Staff member
Administrator
Joined

Sep 16, 2000
Messages

13,763
Location
Corvette

1990 Corvette ZR-1
GM shares slump as bankruptcy fear grows
April 13, 2009 - 1:16 pm ET
UPDATED: 4/13/09 4:19 p.m. ET
DETROIT (Reuters)
-- General Motors shares plunged 16 percent today as traders shed positions out of fear the U.S. government will push the automaker into a bankruptcy that could wipe out existing equity.
GM, which is operating under $13.4 billion of emergency government loans, has until June 1 to win sweeping concessions from bondholders and the UAW.
The Obama administration has warned that the alternative would be bankruptcy.
The automaker is under pressure to cut $28 billion of unsecured debt by two-thirds, turn half of its remaining payments into a union health care trust into equity rather than cash, and reduce hourly wages and benefits to match those paid by foreign automakers.
GM CEO Fritz Henderson, who took charge of the struggling automaker when the Obama administration ousted his predecessor, Rick Wagoner, has said GM would prefer to restructure out of court but was prepared to file for bankruptcy if necessary.
Under Wagoner, GM said repeatedly that a bankruptcy filing would be more costly than an expanded government bailout and could be devastating for its business.
GM declined further comment on Monday.
"We think GM's new CEO, Fritz Henderson, is simply not as opposed to a filing as his predecessor," JPMorgan analyst Himanshu Patel said in a note for clients today. "Henderson has always had a more sobering assessment of the sustainability of GM's liabilities."
"The government's task force, as it drives deeper into GM's finances, may have come to a sobering realization itself that ... very few GM balance sheet restructuring scenarios can really make GM's leverage viable," Patel said.
The White House task force charged with retooling the U.S. auto industry is meeting with GM officials in Detroit this week to accelerate the restructuring process for the automaker, once the embodiment of U.S. industrial might.
Standard & Poor's analyst Efraim Levy said that even if GM avoids bankruptcy by achieving a sweeping debt restructuring, any out-of-court turnaround plan would dilute existing equity significantly.
Chrysler, owned by Cerberus Capital Management LP, is also facing possible bankruptcy unless it completes an alliance with Italian automaker Fiat by April 30 and wins concessions from its bank lenders and the UAW.
Patel said the deep balance sheet restructuring being demanded by the U.S. Treasury would be a tough pill to swallow for bondholders and the UAW, making bankruptcy more likely.
In negotiations with bondholders, GM last month offered 8 cents cash on the dollar, 16 cents on the dollar in new unsecured debt, and a 90 percent stake in the automaker, according to a person with knowledge of the term sheet.
Shares of GM closed the day down 16 percent, or 33 cents, at $1.71 on the New York Stock Exchange. The stock has lost more than a third of its value since March 30, when President Barack Obama rejected GM's turnaround plans and warned it could be put through bankruptcy to slash debt.