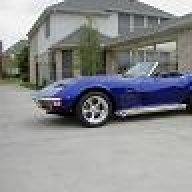 Joined

Nov 21, 2003
Messages

276
Location
Corvette

71 Kandy Burple Conv / 02 MY Z06
The car goes to paint Saturday! After 10 months of this frame off restoration she's ready for color. The color has been picked and I'm solid on the choice. It will be Candy Blue over Cosmic Stardust (silver metalic) basecoat. This is a color from DuPont but the painter is going to use House of Kolor paint so he'll cross reference. Basically it's going to be "Candy Apple Blue".
What I need help with is a decision on stripes. The car is a 71 Convertible with L88 Hood and Jet Coated Hooker sidepipes. It also has a hard top. The soft top and interior are black.
I want to do something to highlight the details on the L88 scoop. I'm concerned that the shape gets lost with a solid color. The LT1 hoods have a nice chrome strip to accent the lines but the L88 doesn't have this as a choice.
I like the Motion Performance stripes but my wife doesn't like how it finishes off on the back of the car. I'd like to paint the center portion of the scoop and continue it back over the rear and down between the tail lights, but the width of the scoop seems too wide to pull this off. I'm guessing I could taper the line to make it fit but I'm not sure how that will look.
Color choices if I do put on a stripe seem to really be limited to white or silver. I think the white doesn't work as well with the metalic in the blue. Right now I'm leaning toward the silver metalic base coat for the stripe.
Ok. So now you have the background let the opinions flow! Pictures would be even better. Here are some shots of the car now for those of you who are PaintShop experts. I've got a few weeks to go before I have to lock in the paint scheme but the sooner the better.
Thanks everyone. Here are the pics.