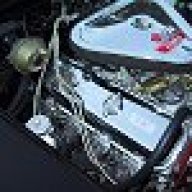 Joined

Nov 23, 2001
Messages

183
Location
Corvette

Black Cherry 1969 Stingray
Well the good news is that I was able to drive my baby for the first time today and she was wonderful. All that power made me kinda nervous for the first couple of hours especially after I opened up the Secondary Carbs. I don't think that I could've ended up with a better deal.

THE BAD NEWS!!!

I had to have her towed for the first time. I have a 1969, 427 w/ tri power. The entire car/engine/chasis w/ M2are in prestine condition (well atleast I thought so). Coming home to put her away for the day, she began to die out when I tried to accelerate. I could maybe hold 1200 rpms w/o a problem but anymore gas would cause the engine to lose all power. About a mile down the road I couldn't push the gas at all w/o losing power and then it quickly worsened and the engine died all together. After waiting a few minutes and pumping the gas she'd start right up and fun for a minute or so and die again.

I think that it may be a clogged fuel filter. I called the previous owner and he said that the only fuel filters were the ones that are built into each of the three carbs. He also said that it may have been vapor lock causing the problem. After letting the car sit for almost an hour it would do the same thing. Start, idle for about 10 seconds and die. If anyone has any ideas, I'd be glad to entertain them. Thanks for reading.