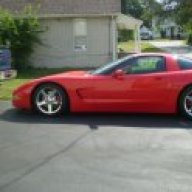 Joined

Jan 1, 2011
Messages

77
Location
Corvette

2004 Torch Red Coupe
This past Dec 6th was one year since I purchased a one owner 04 Torch Red Coupe with 53k on the clock.
I have owned 2 C3's, 3 C4's and by far the C5 is the best. Granted my car needed a few
"Personnel Touches" to get it where I want it but it wasn't anything major. Everything that needed to be done I was able to do with the vast knowledge base on this and other forums. Lets see, new Wheels, TPMS's, Tires, Battery, complete suspension rebuild, new rotors and brakes and a new Center Console bezel replacement. I had a small water leak on the passenger side that I was able to take care of. In the process I Insulated the interior while it was apart to find the leak. Shampooed the rugs too while they were out.
IMO all of these were "Wear and tear" items that have gotten tired over 7yrs and 53k miles. Next things to get done are the replacement of the Tensioners , Idler Pulleys and Belts. Over all I'm in love with this car and I always look forward to driving it. It's an awesome machine and I definitely got the most bang for my buck !