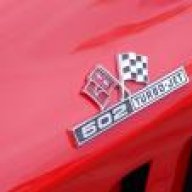 Joined

May 28, 2004
Messages

2,410
Location
Corvette

65 BB 502 Cp /MSD ATOMIC EFI/ 2009-HUMMER H2
My Colletor car insurance co is charging me $527.00 a year. And as of today ,Grundy Collector car Insurance quoted me $520.00 .
This is for my 65 Corvette with a GMPP ZZ502 and a Keisler 5 Speed which is considered a "Modified " car. So ..after all this talk about How Great Hagerty Collector Car Insurance is...I went on line for a qoute as I thought I'd upgrade to a better insurance co.
The price comes back at $1131.00 Per Year...!!!! So I thought..this must be a mistake. So I input it again.....Same thing..WTF...??? Next, I pick up the phone and call them. Get .."Dave" on the line..he gives me the same price and tells me that it the Vette was stock and had a 396 /425 HP ..Hagerty would charge me around the same ..$520.00.
But..because I have a 502 inbetween the frame rails there charging mean addional $611.00.

ad as the Vette is Modified
So..so much for these A..Holes... So I guess if you have a street rod and you drop in a BB your priemium goes up. What a bunch of Poop...

ad
Did you ever hear of this crap..???

ad