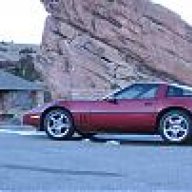 Joined

Dec 3, 2004
Messages

271
Location
Corvette

1989 Dark Red Coupe
I took my 89 out for a drive the day after I returned from vacation last week. Did about 40 minutes of highway driving then stopped at Walmart. Drove from Walmart to the Grocery store. Tried to leave. The car fired but then shut down after a few seconds. Had her towed home.

ad By the way, I was VERY worried
hnoes about the towing but it was relativley easy. There are two " T-slots" built into the front of the sub frame. Attached his cable with "t"s on the ends and pulled her up on the flatbed. He was careful and actually called another truck to get a couple of 4 X 4 lumber ramps so the front air dams didnt contact the truck bed.
Anyway, I have been slowly and patiently trouble shooting and thought instead of the usual plea for help that I would journal what I am doing. Those who want can review and provide confirmation and or advice.
It still does the fire up and then shut down routine. I have the sevice manual and have been pouring over the emissions and drivability section for trouble shooting procedures. I have also read the start sequence that gmjunkie keeps putting in posts about no-starts.
78,000 miles
There is pressue in the fuel rail.
There are no codes being thrown. ( Auto Xray 6000)
I checked the TPS and it read .636 volts with the throttle closed. This is out of spec so I adjusted it and thought well, that was easy. Still starts and then shuts down.
I disconnected the MAF sensor as suggested in the SM. Supposedly, if the MAF sensor is bad, the car will start and run on a defualt setting. No change.
Bought a fuel pressure gage at Harbor Freight ( on sale for $9.99 ). Checked fuel pressure. Only about 25 PSI. Had to stop.
Next step is to check the FPR. If that checks out then the fuel pump and or inlet screen. I replaced the fuel filter less than 10,000 miles ago so I don't suspect that. Do fuel pumps typically lose pressure when they go bad or just go out?
Here's the thing. You know how we all know that we should keep the fuel level in our tanks at least 1/4 tank? Well, since I hadn't driven her in about 3 weeks, I ran her down to about 1 gallon on my drive. My next stop was to be the Shell station for a fillup of fresh fuel. Could this have been the last straw for my fuel pump?
My last remaing check is the EGR. The SM says that an open EGR during starting can prevent running because the AFR is too high, ie too lean for cold start. No choke effect. I assume low fuel pressure prevents running for the same reason.
Junkie, did I read in some thread that you say to give the EGR a rap with a screwdriver to loosen up carbon deposits? I think the carbon deposits prevent the valve from opening though.
Well, what do you think? Am I doing this right? Do I correctly understand the concepts behind the the checks the SM is having me do?
:blue: Still smiling and praying I don't have a bad ECM!