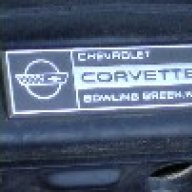 Joined

May 26, 2003
Messages

2,760
Location
Corvette

1986 Black "Indy 500 Pace car replica"
What I am looking for is an equation or sheet that will tell me the volume a fuel injector is capable of flowing. I currently have 24 lb/hr injectors but I would like to know the maximum volume of fuel it is capable of flowing per whatever unit of time. I can do the conversions later.
This is what I have found so far:To convert lb/hr to gal/hr divide by 6. Therefore my 24 lb/hr would flow 4 gal/hr multiplied by 8 injectors, so all the injectors combined will flow 32 gal/hr.Does this sound right??