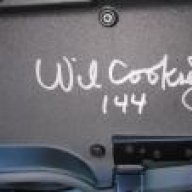 Joined

Jun 19, 2005
Messages

154
Location
Corvette

'08 Will Cooksey #144 Z06
WELL.... I just traded in my

'03 AE Coupe/Auto

with 16,000 miles on a '07 Monterey Red/

Cashmere

Coupe/Auto (paddle shift) 3LT and loaded! Total options on the window sticker is $14335.00
My nerves are shot! Did I do the right thing here? :confused
Both Vette's parked side by side at the dealership were very close to the same color in and out, and I like

"burgandy".

The C5 was in perfect condition and ran great!
Other than plain male ego...and reading the "Mannly Man Magazine", I felt I had to step up...an urge I just could not shake having driven a C6 about two weeks ago!
Now that I am home and having driven the '07 about 40 miles, I am looking at this wondering if and when reality sets in, will I wish I didn't do this?
Window sticker on the '07 is $59,330.00. They discounted the MSRP by $4000 and gave me $34000 for my '03 AE. Bottom line out the door price with tax is $49800.00
I feel like I got as good of a deal as possible, but did I?? Hence the sudden nervous feeling.
I need some support from those of you that have been in this position before me...any HELP with words of wisdom (if there are any) would be appreciated here!!