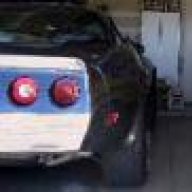 Joined

Apr 29, 2001
Messages

2,141
Location
Corvette

1981 HD Suspension; ZN1 Option
What a PITA is to deal with ignition wire heat shields. And perhaps, the worse portion is the #6 and #8 heat shield :/ the left side of engine is not too bad, but the difficulty goes up a notch if you choose to not remove the air cleaner snorkel duct on the passenger side for #2 & #4.
I had to disconnect the battery, disconnect the starter's extension harness (except for the ground), loosen the screw that holds the heat shield (with a wrench. because the oil dip stick tube interferes with it , or loosen the oil dip stick tube bracket off the engine mount and work it away from the heat shield bolt
mad

ad ). And then disconnect the auxiliary cooling fan switch harness and wrangle the stupid heat shield off it's location...
This is abbreviated process because if you get involved in moving stuff out of the way, you'll have to drop the front Y pipe enough to lower the EFE valve and still wrestle that dang heat shield...ahhhggg

ad
Anyways, I went ahead and installed new AC Delco platinum spark plugs and shot the wires to make sure the wires are not bad.
After all the work, the miss on number 1,3, and 2 are gone. Re-adjusted the air valve in the carb, and took a short drive around in hot weather, and she's moving nicely. Even the bog/stumble on acceleration is gone.
Alright! Now she is ready for receiving JRose into New Mexico for his Corvettes of Santa Fe annual gathering.