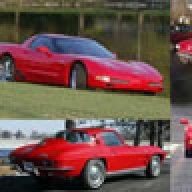 Joined

Oct 11, 2003
Messages

1,895
Location
Corvette

15 Z06, 01 Vert, 63 SWC & 60 ALL RED
I hate the front bumpers on my '60 vette......this is the biggest PIA there ever was......I have more than 40 hours in the darn things and they are still not done
.....I am not a happy camper!
I can get the outside bumpers right where I want them, but then there is the problem with the center grill bar. So, I thought I would get real tricky after pulling out what hair I had left and trim the center bar with my die grinder. I know, I shouldn't have to, but holy crap, I have enough time in this thing it should be coming together and I should be moving on. The more I touch things taped or not, the more nicks and marks I put in them....
But I trimmed it too far and now I am getting another center grill bar. My original bar I can see that someone WELDED the end tabs in place, they too must have had enough fun.
I have tried to put these darn things on as a unit as separate pieces....UGH....if you see a '60 vette at Carlisle that looks pretty good, but doesn't have the center grill in place, that is ME!
I am ordering a new grill today (maybe 2 of them) to have another go at it....