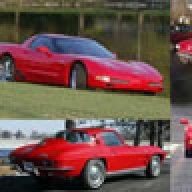 Joined

Oct 11, 2003
Messages

1,895
Location
Corvette

15 Z06, 01 Vert, 63 SWC & 60 ALL RED
I was trying to keep everything tucked under the car going out the back and have decided after fussing with the stock exhaust that I have that there isn't going to be anything that goes through the frame that is going to clear my new rear end.
So, I think I am going with an Allens Exhaust side pipe exhaust. There is about 9" from the outside of the frame to the outside of the car body. They position the side exhaust 3 inches from the frame, it takes up 2.5 inches and that leaves 3.5 inches to the side of the car.
The exhaust comes out right in front of the rear tires.
It comes in stainless or aluminum. 2.5 inch or 2 inch. Needless to say the 2.5 inch will do just fine.
For an exhaust manifold, here is what I bought to mate up to the Allen side pipes.

The rear end back there just has too much stuff in the way with the panhard bar cutting across the area between the rear differential and the top cross over bar. This seems to be the best compromise.