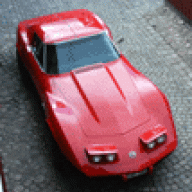 Joined

Feb 20, 2002
Messages

247
Location
Corvette

1974 red coupe, 1969 yellow vert
I decided to replace my ignition lock, since the old one could be operated without a key (not much use then...).

Ordered a new lock from Ecklers, disassembled the steering wheel and the stuff behind (telescopic/tilt, makes it even more fun...), and put in the new lock.
When I had put half of the stuff back together I noticed that the lock couldent be put in the "lock" position. So I tried with the old lock again, and it was the same with that too (and has been always I guess, but since the key could be removed from the old lock in al positions, I really didn't think about it).
So I removed the lock, and operated the rod inside the steering column directly with a wrench, and the problem was the same; I can turn from "off" to "run" and "start", but not fully anti-clockwise to the "lock" position.

Anyone has any ideas about this? Dismantling the whole steering column is not what I am dreaming about...
Is the corvette supposed to have a steering lock that operates with the ignition lock? In that case you propably have to turn the steering wheel a bit in order to lock in the right position, but that doesnt seem to help here.