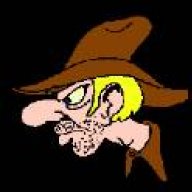 Joined

Apr 17, 2001
Messages

841
Location
I don,t know about most of you guys/gals but I hate cleaning aluminum wheels, the crud, brake dust, crusted grime, oil, its baked on ground in and it usually takes about 1/2 hour per wheel to look showroom new and you usually need abarsive pollish and lots of elbow grease to get them looking right!
Id have taken before/after pics but ID never admit to letting the vettes wheels get into that condition

being lazy at times and open for suggestions I stopped at PUBLIX super market and was taking to a fellow, car nut at the magazine rack, the subject came up and he suggested
SUPERIOR FORMULA 23 HEAVY DUTY INDUSTRIAL CLEANER & DEGREASER
"BLACK BOTTLE/JUG, & YELLOW LETTERING"
a scotchbrite pad and hot water in a bucket and a stiff paint brush gets his wheels clean...........HMMMMM???
well I find the stuff in a gallon jug in the cleaner isle and I buy a dozen scotch brite pads thinking this ios going to be anouther 2-3 hour P.I.T.A. but IM willing to try new things......
WOW the brake dust an d caked on crud rubs off with almost no effort at all after I soaked the wheels down several times with strait solvent cleaner ....and worked---BARELY on it with a scotch brite pad and a constant stream of solvent spray...The hose removed about 90% after the first go round, the second time I really soaked the wheels and used a towel, the whole process took about 30-40 minutes and it looks like new!
DAMN IM KEEPING SOME IN THE SHOP FROM NOW ON!!!