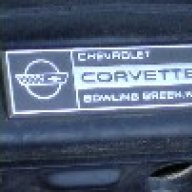 Joined

May 26, 2003
Messages

2,760
Location
Corvette

1986 Black "Indy 500 Pace car replica"
I think I have pin pointed one of the problems I have been having with my car. Yesterday, I modified a fuel pressure guage so I could monitor the fuel pressure while I was driving. Currently my fuel pressure is set to 40 or so psi with a vacuum source on the regulator. Under normal driving the fuel pressure stays somewhat constant, or perhaps goes up a psi or two. Under sustained RPM's (keeping my foot in the pedal until redline) the fuel pressure drops down to 30 or below.
I am going to unhook the the vacuum sorce and drive the car again monitoring the fuel pressure to find out for sure if the fuel pump is getting weak, or if the afpr is doing something weird.
Just in case, I have been doing some searching for a fuel pump. Any suggestions on a higher flow rate then stock fuel pump. Right now I am unaware of what I need, but I surely dont want to buy a stock pump and end up relacing it.
I found this on summit, take a look and tell me what you think.
EDL-17933