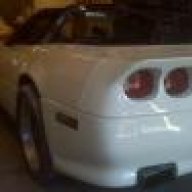 Joined

May 9, 2002
Messages

2,942
Location
Corvette

1984 White Z-51/ZF6-40/Shinoda body
I am not at all satisfied

ad with the preferrred repair shop nor the rates charged to insure my 1984 Corvette. Prestige Collision in Mission Viejo, really screwed up the wiring. I found shoddy repairs when I was did my Euro taillight wiring, added to previous problems with the door locks, the rear hatch and others. The exhaust system was hung so as to burn the rear bumper paint! I refused the lousy flex bumper, which was not damaged, only stripped for repaint; a job that was poorly done so as to be redone twice. Then my engine, all of a sudden, had a spun bearing! I have photos of the car sitting outside with the windows wide open. I witnessed their workers doing burnouts with another customer's Mustang at closing time.
It took repeated calls, to a regional supervisor, to get the work done properly; then, USAA didn't seem to care that the work done on my car was poor. The local rep never returned my calls.
While USAA used to be very reasonable on Corvettes and other cars, of late, I am not sure the same is true. I was paying through the :booty to drive a few thousand miles a year. We have excellent driving records, yet pay over $1200/years on two older BMWs! I carry a %500 deductible. Neither is driven over 8000 miles/year, which qualifies for their lowest rate. The Vette will raise that cost by 30% or so.
My rocket ship

will leave the shop soon, and I need to decide. :confused
What do y'all find is the best deal?

from Orange County, CA