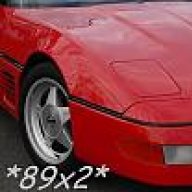 Joined

Feb 18, 2002
Messages

10,357
Location
Saw this GNX on ebay today (547 made) and thought about our cars (again) and future values :cool
http://cgi.ebay.com/ebaymotors/Buic...ategoryZ6137QQihZ015QQitemZ250139293548QQrdZ1
When Buick added an "X" to a model designation, one could assume that it meant something special. Recall the 1970 GSX which was an appearance modification of the Gran Sport. In the case of that "X" machine, the changes were strictly on the outside, but that wouldn't be the case with the GNX. There was one similarity, though, between the two machines, that being the bigger "X" in the three-letter emblem.

For many, the GNX is the most desirable some-what modern performance car in the country. It took the second-best performance car in the 1987 Grand National and made it a giant step better. With all its positives, there is one large negative from a collector's point of view.

There were only 547 produced, which makes the GNX very rare and very expensive. It has been reported, for example, that GNX models have reached the six-figure values in 1990s sales.

Experts advise any lucky GNX owner to keep his car as they are predicted to continually escalate through the years.

The refinement that the GNX received in so many different areas is truly amazing. A speed shop couldn't have done a better job. Acquiring a 31hp increase over the standard Grand National engine was a significant accomplishment. Consider, of course, that most factory announcements of horsepower are quite conservative by nature, so the actual figure is probably much closer to the 400 or greater figure.

The GNX was not a complete factory creation as aftermarket modifications were accomplished by McLaren Engines and ASC Inc. But even though there was this influence, it's generally agreed that Buick engineer Dave Sharpe was the guiding influence behind the GNX. He wanted the Regal line to end with a bang. With the GNX, he succeeded in a big way!

WILL THIS BE THE NEXT $1,000,000.00 CAR OF THE FUTURE??
So will it??? Or maybe it will be a Callaway