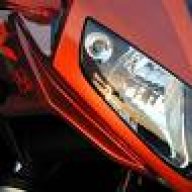 Joined

Oct 25, 2002
Messages

2,634
Location
Corvette

2002 Yellow Z06 (sold); 1999 Pewter FRC (sold)
We just got a 99 FRC. The brakes were really bad (shuddering and vibrating when braking at just about any speed), so "we" (I use the term usely, since Phil did it and I watched
) pulled the rotors off and replaced them with some Baer drilled/slotted ones.
Here's the weird thing.
The service record indicated that the rotors were replaced by GM in March of 2006 (just 6 months or so ago). Here's what the rotors looked like when we pulled them off:
click
and
click
Now, would new rotors look like this? Would they have "R" and "L" painted in childish script on them? Would they have "Made in Brazil" stamped on the inner side? Would they look so old and worn and beat up?
I am really curious. Something just doesn't seem right. Do you think someone just couldn't afford new rotors, and went with something used? Would a dealership put used rotors on a vette? Would anyone in their right mind do this? surely the dealership didn't sell someone "new" rotors and put these things on! :eek
So many questions. I'm looking for answers, speculation, whatever you got
Tammy