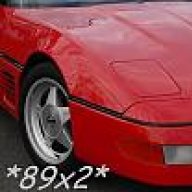 Joined

Feb 18, 2002
Messages

10,357
Location
For Valentines Day, some may recall the floormats I bought my wife for her SUV - for those who missed the thread and the related doghouse stay for me, here is a link:
http://www.corvetteactioncenter.com/forums/showthread.php?t=92492
So here I thought she forgot all about my gift ;squint: when out of the blue, I noticed some changes in my office at home :eek
First thing I discovered, was she organized a bunch of things. After looking for a sense of order, I noticed a new picture hanging on my wall, keeping good company with some other images/artwork :cool
Aside the Dana Forrester original (Thanks
) and the C 3 6 poster (Thanks L & J :cool ), I had another framed piece - What a cool thing for my wife to have done - esp. after the whole floormat deal
hnoes
Here is a pic of the framing-
Enjoy!