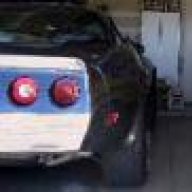 Joined

Apr 29, 2001
Messages

2,141
Location
Corvette

1981 HD Suspension; ZN1 Option
Hey gang!
I finally got to the point to get the engine started!

The engine runs better (I thought I would have a lot more problems) that I expected. Oil pressure, and engine temperature looked good, and no major leaks were found. That oil priming tool surely was helpful. I saw the oil pressure shoot-up as if it had run before, and I got about 43 PSI, and then [the engine oil] warmed up to a solid 38 PSI.
Once I went through the timing check and all, I realized that I have an air leak somewhere. I have been disconnecting smog system one at a time, but now I wonder if my smog hoses are correctly connected. I used the Dr. Rebuild kit, but perhaps their diagram is not correct.
I also lack the correct Federal-Automatic smog label for my car. I have a California smog label (AUH) that I ordered by mistake a few years ago, and I don't have the correct configuration for the smog hoses.
So, can anyone tell me what are the adjustment parameters (idle speed, fast idle speed, solenoid speed, and the like) for the AUD label? And does anyone know if the routing is the same as for the California (AUH) models?
GerryLP:cool