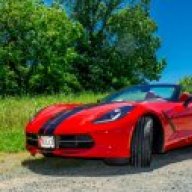 Joined

May 13, 2003
Messages

610
Location
Corvette

2014 Convertible
I have been going to this event for many years, and for the first time I am trying to write down a humorous look at what this event means to a CORVETTE Nut....so here it goes.....I hope you get at least a little smile from this,,,
To me, this event is an adventure, like Indiana Jones and the Temple of Dome, finding that elusive perfect vintage part, still in the GM/AC Delco wrapping, for pennies to the dollar, before anybody else. Sorting out the junk from treasure, doing that yearly Corvette Shopping, without being at home, sitting in the bathroom with a catalogue making your selections in the blind.
This is more a humorous look at my escapades and past experiences at the largest Corvette Show. FYI...when you are restoring a car this is a typical schedule (the one I am doing this year for Carlisle, more or less). This may be a little exaggerated (or is it?), but I think you get the jest.
Oh yeah, to do this you have to take a week's vacation:
Monday: Get you chores out of the way, cut the grass, clean the family room, vacuum, get all the brownie points you can with the wife so she will be OK with you spending money at Carlisle, That evening, after you have bought flowers for you wife and prepared the meal, given her a backrub and make sure she is asleep, you log onto the internet check all for forum pages at the last minute to see what's new at Carlisle and who is going
Tuesday: For extra measure, you make breakfast for the wife before she goes to work, and ask here for a "honey do list", But the real motive is to take the seats and armrest out of 63. Put them in the truck and get truck gassed up for the early morning first trip to Carlisle.
Tuesday Night: After you have taken the wife out to an Italian Restaurant and makes sure she is watching "Big Brother", you excuse yourself, in the privacy of your garage, you call credit card companies and ask them to higher credit limits to get prepared for the week-end's shopping spree. You search and find the hidden sock in your dresser where you have stashed those single unaccountable dollar bills the last year, just for this event...you find you have about $242.53 that spouse has know idea you stashed. You put it in the inside hidden compartment of wallet. Go to bed around 9:30 AM and dream of finding that perfect set of Knock-offs wheels for $242.53.
Wednesday Morning: Wife's on her own now, Carlisle has begun. The rush is on. To beat the rush of the entire week-end you have called Al Knock's home office in Texas, several months ago to arrange them to re-upholster you seats at Carlisle, but still you can't get them to do it during the show. So you have to go early before the show begins. At 5:00 AM, leave to go to Carlisle with two seats and armrest stashed in your truck. Appointment at 9:00 AM (only time left) with Al Knock to have both seats and Armrest reupholstered. While they are doing seats, you get that all important PREVIEW of the vendors setting up. Around 1:00 PM you head back to reinstall seats and get 63 ready for its first showing. You drive back madly to reinstall the seats only to find out the body man says the car is still not ready to take this year....so you cry a little, ask yourself why does this happen to me, but soon this is forgotten as you remember you have more important work to do now...SHOPPING FOR THE CORVETTES. You must PREPARE for Corvette Shopping...so you go home an devise a strategy....Since you have picked up this years Carlisle Program book, you start plotting out you vendor visits and mapping the shortest paths to there stands at the fairground. Like a military battle analyst you have completed the "order of battle" and know the exact location of each target you will hit, the distances between, and the priority of which you will hit them. You are as ready as we were before we went into Iraq. You are a veteran of Carlisle and know the lay of the land. You are ready.
Thursday: Morning cleanup, since the 63 is unable to make the trip then the 2002 is detailed to represent you this year, You pack your suitcase, which consists of every Corvette Shirt you own, and shorts and two pair of walking shoes, and the trusty Corvette Ballcap, denoting your generation Corvette, thus you have the C5 logo instead of the C2 logo, this is very important. Afternoon your wife arrives home from work early, as you requested, she packs, you leave for Carlisle in the 2002. Top down, tunes blaring on the radio, your mind goes over your battle plan. While your wife looks at you saying to herself, "He has that glazed faraway look, oh my God he is planning his shopping." Now the key is to immediately check into hotel so you know you have a room. The Room is necessary as it becomes the basecamp for the weekend. Fridays spoils of war are left there to make room for Saturday's reaping of treasure. Then late afternoon got to fairground, stake out area. Since vendors are not open, and still setting up, you walk through your battle plan, with program in hand you make sure and assure yourself you have the exact paths and locations of targeted vendors memorized. You are now ready. Before you leave, go over to the Corvette Corral and check out the cars and prices being offered. Go back to hotel and get wake up call for 6:30 AM...
Friday: 6:30 you are up, after having a tossing and turning night, your mind has raced and you know the mission that must be done. By 8:00 leave to go to fairground, but this morning you can afford to go by Waffle House for breakfast, you convince your wife to order the express meal, you arrive at fairground, gate 3, go to registration, get information package, park car on funfield, getting the closest possible space to the vendors, then proceed to nearest Goody bag post, get Goody Bag and stash it in trunk, no time to go through it now, waste of time wait for later, then go on the long awaited treasure hunt before others to find vintage 63 parts....looking for the bargains. You have lunch under the grandstands, get that pepper, onion and sausage gutbuster, the lunch of the fine tuned Corvette Shopper. Resume your battleplan, making periodical trips back to the Corvette to stash your new purchases. Don't forget your wife is with you because she carries the checkbook and she can carry your purchases while you go on to the next vendor. Take a break around 2:00 PM and get one of the ice cones (root beer), and then continue the quest. Wife spots the nostalgic 1950's stand with the Betty Boop tee-shirts and Coca Cola memorabilia, you try to steer her away from the back row of stands, too late, you must now go and putter around while she decides does Betty Boop in her 59 Corvette look better in blue or pink tee shirt.
You buy here both colors just so you can continue. By 4:30 vendors start to close, and your trunk is full, so you head out.
Friday night: Collapse in hotel room, get ready for next day.
Saturday Morning: Day of all days for a year has arrived. The Masses of Corvettes are all on their way to Mecca. I have already got the head start, 4:30 wake up call rings the room, you spring out of bed, the fatigue from yesterday is gone, of course your wife wants nothing to do with getting up, but you turn on the TV, run the shower, open the curtains, order room service, forcing her out because breakfast will be delivered and she can't be in bed when the waiter arrives...(good play). Breakfast arrives at 5:15 AM. You are out on the road at 6:00 AM.....ahead of the crowd. You drive straight to gate 5, the back gate as you already are registered, and find that parking space in the funfield. Its now 6:30, your wife has fallen asleep again in the car, but you know your car has to look SWEEET, so you pop out, open the trunk and get you cleaning back out, set up your folding chairs and establish you base camp. By 6:45AM Zanio is glistening in the morning air, and your are removing the bug guts from the front of you precious Corvette. By 7:30 AM your wife wakes up again, and she is hungry, so off under the grandstand you go. You get those biscuit and eggs with coffee and OJ. It's now 8:00 AM and the masses are arriving. To beat the line, you on the way back from the grandstand you stop by Herbecks to pick up your yearly poster...rolled up and held together by an elastic band, you treat it like a piece of DeVinci artwork, carefully trying not to bend that tube. Again you go back to the car, stash the roll in the back. Now its time to people and car watch. The early morning sun is straining the eyes, the morning chill is turning to heat, and you are thirsty. The trusting cooler is removed from the car, and you start drinking the water. By 10:00 AM you are getting restless, and you want to join the herds of people and be part of this great event, so again you start the quest, but this time you start look at other people's cars. You see classy Corvettes, Gaudy Corvettes, Corvettes converted to Ricers, Corvettes with every type of paint job you can think of, then you always find that one Corvette that sticks in your mind....like the one the guy that painted that C4 psychedelic, everything.... You then wander to the closed buildings to see the special cars, and finally end up at the Chevy Tent, listening to Dave Hill give his yearly sales pitch about how valuable you are as a customer to Corvette and they really listen to you....blah blah blah. You get the same pitch from the NCM people to buy a brick or join, and then you go back to the car for more water. Oh yeah, buy 10:00 AM you better register for the parade, or else you can't get the XXL T-shirt, the usually sell out buy 9:00 AM. By this time the wife has discovered the woman's Oasis, and has managed to sign up for a back massage, pedicure, nails, fashion show, and a woman's lecture on Corvette Repair given by Harmon's wife....
So this give you free time to just walk around or visit the auction tent...buy 1:00 PM you meet your "refreshed" wife at the grandstand and have the yearly lunch of "ham and Swiss cheese" from that deli shop at the end...with a cold soda. After lunch you make that one last round, just to make sure nothing else has popped up. At 3:30 PM you head back to the car, but stop buy the grandstand to check out this year's beauty queens...of course you can't stare as the wife is with you. After you see them you tell your wife the same thing you told her last year, "Honey, why don't you register for the contest next year, your just as good looking as they are" This scores the final few point so you can pick up the Corvette Diecast you spotted. Your wife blushes, then says, oh maybe......but you got those extra points to get the diecast.
You arrive back at the car, pull out the duster and dust the fine layer of dust off the car and get ready for the parade.
Afternoon, prepare for thundershower that happens around 4:00 PM, don't forget to put away chairs and other loose items, as the wind starts to kick up it will blow it across the county, dry off car clean car again for parade.
Saturday Evening: Participate in parade, after parade, don't park keep driving back to hotel for diner, shower, watch an HBO movie until you fall asleep, oh yeah don't forget to put wake-up call for 4:30 AM.
Sunday Morning, sleep in a little later, go back to fairground to look for last minute bargains, the leave for home around noon....
Sunday Afternoon: Late afternoon arrive home and wash car before you put it in garage.
Sunday Night: Emergency room, Loudoun County Hospital for exhaustion.
Monday: Call in sick, sleep in until late afternoon.
Monday Night: Open Goody bag, through most of it away, keep refrigerator magnets, pens, and put stickers on trash can. Put the dash plaque with the fifty or so of others stashed in bedroom dresser, knowing this is the "prize" of the week-end. While you are putting it with the others, do a quick review of dash plaques collected from years past...ponder and remember memories associated with Carlisle of that year.
Tuesday: Go to work and talk about all the Corvettes
Tuesday night: Call up hotels and make reservations for next year... does any of this ring a bell with you?
Hope you enjoyed this....Have a great Carlisle.