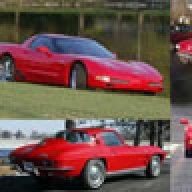 Joined

Oct 11, 2003
Messages

1,895
Location
Corvette

15 Z06, 01 Vert, 63 SWC & 60 ALL RED
Today was like car show day, tomorrow bright and early the Tour begins leaving out of Cleveland at 9am and after stopping along the way for a light lunch it will arrive in Kalamazoo, Michigan. Because of work and needing to spend time on my '60 I have decided to not do the whole tour, so here is the first day and I will post tomorrows results as well....enjoy...my web page has all the photos I took today here is a sampling----->
of course have to start it off with my '64
and then I saw this car...I almost freaked out as those who have been following the build of my '60 will recognize that this car is real close to how mine will end up...there are differences and I was glad to see that three will be....but I went crazy taking a lot of photos of this car. Upon close inspection I was glad to see that they too were challenged by the final position of the front bumpers relative to the wheel opening. This was still a sweet car.
The front wheels are 19" and the rears are 20" with 255R35X20 tires
notice no dash pad...looks pretty good
turbo-diesel 4 cylinder
and when I was leaving...I saw these coming in...
link to my web page more photos--->
http://public.fotki.com/htmiata/hot-rod-power-tour/