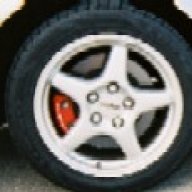 Joined

Jun 20, 2002
Messages

2,510
Location
Corvette

none right now :(
I really don't drive my 'vette much anymore... anyone interested in a '96 CE LT4? I am thinking under $15k will buy it. I would rather trade for an Automatic convertible of any year.

to start off with:
The car is NOT perfect. if you are looking for perfect, go buy some other car.

Under 50k miles
Silver / Torch Red interior
Both tops
Z51
Bose CD / Cassette
Sport Seats
6-Speed / LT4
factory 5-spoke CE wheels (275's on all 4 corners thanks to Z51)
Painted Red brake Calipers
Muffler eliminators
K&N filter with open air box +TB air foil
Tires are in great shape
always used Mobil 1

Now, the bad parts:
engine leaks oil (has since I bought it in 2001). it is a very slow leak (you don't even notice the drop on the dipstick between changes), but can be annoying to some...

The drivers window needs a track, it is slightly off kilter

The passenger side headlight needs bushings

The clutch and flywheel are new--Fidanza lightweight flywheel and new clutch from mid america. under 1500 miles on them, with 1000 of them highway. the bad news is it shakes like heck when trying to take off slow. I am told it will 'break in' but it hasn't as of yet. If i were buying the car, I would plan on the expense of having it redone in case it doesn't 'break-in'

Check engine light is on. it goes out sometimes, but will come back on. It has been like this since I bought the car. It runs great though.

passenger side air vent is broken. one of the vents control knob thing broke. plan on buying a new vent setup from a salvage yard. A/C works just find, and it still blows out find, the passenger just can't control one of the 2 vents

The front bumper could use a re-paint. it has a bunch of stone chips in it, and a section that has flaked off and needs touch-up.

In cold weather it can be tough to shift, BUT i switched to Mobil 1 when I did the clutch and it has seemed to make things much better. I had trouble with reverse before, and now it shifts fine into reverse too.

Parking brake does not work, don't need it down here in the flatlands of FL so I never fixed it.


All in all, the car is really nice, but not a show car. A great car for cruise-ins though and, best of all, DRIVING. I drove it up to the 50th ann. in nashville, and many other places... I just took it to South Florida not long ago on a 1000 mile round trip and it ran great.