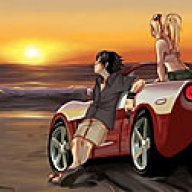 Site Administrator
Staff member
Administrator
Joined

Sep 16, 2000
Messages

13,790
Location
Corvette

1990 Corvette ZR-1
If there's one thing that can be said about Mike Yager and <A href="http://www.madvet.com/shop?referrer=cacbanner&what=468x60" target="_blank">MidAmerica Designs</a>, they definitely know how to celebrate an anniversary in style! I just got back from the MidAmerica FunFest 2003 event held on the company grounds in Effingham, Illinois and I'm still recovering from the weekend.

I left my home on Thursday in Northern Virginia just as the menacing tentacles of Hurricane Isabel were starting to latch on. By 10:30 am, the wind was starting to pick up and every now and then it would start raining and then suddenly stop. Because of the oncoming weather and because I had a bunch of stuff to pack, I didn't take the Vette with me, although in some small way I kind of regret it. More on that later. I also didn't take my truck. Although this seemed logical at first, the truck is basically nothing more than an oversized yacht that almost has the same appetite for gas as a Dodge Viper does. To make matters worse, in the rain, it's almost like trying to maneuver a sled in a blizzard. The rear end is extremely light and breaks loose at any given moment. I just didn't want to take the chance and instead, rented a Mazda Protege. A most interesting automobile. Small, light and sounds like a tin can, but very nimble and AWESOME on gas.

As I was heading down I-70 through Maryland, Pennsylvania and Western VA, the weather became a bit violent. Heavy rains and large gusts of wind literally tossed the Protege all over the road. I ended up making it just past Indianapolis that night. All in all, it took me about 11 hours to get out to MidAmerica, Not bad considering that Mapquest calculated at just over 12 hours.

My general impression of that "neck of the woods" is - corn, corn and more corn. And just when you think you've seen enough corn, there's a hell of a lot more corn all over the place!! The terrain is much more flat than it is here and although there isn't much out there, as compared to what I'm used to, it's nevertheless, quite beautiful in its own way.

The farms and fields look so peaceful, as if they were frozen in time. One of the most memorable things I saw was very early Saturday morning running down to MidAmerica from my hotel. It was about 6:30 am and the sun was just starting to rise over the corn fields. There was a thin layer of fog hovering over the corn and in places, that fog became thicker where there were small collections of standing water. The sun changed colors and shades as the density of the fog changed and the tips of the corn stocks were glistening. It was incredibly beautiful and something I won't ever forget.

The roads in that area had to have been made for a Corvette. Long, straight and flat is the general norm for roads out there. I could easily get the little Protege up to 95 mph without trying hard. They were some of the best roads I had ever been on and it was then that I was wishing I had my Vette with me. Going 95 mph in a Mazda Protege is not quite like going 95 mph in a Corvette!

We were extremely proud to have been invited by MidAmerica to attend their FunFest 2003 event. The main purpose of our presence there was to promote the Corvette Action Center web site. It was not to hold a party for our members or form some type of hospitality tent, which I was more than agreeable to. I was just pleased to be be there and to be able to have the Corvette Action Center represented.

Saturday was extremely intense. I was up by 5:30 am and out the door of my hotel by 6:15am. I wasn't exactly sure what to expect when I got there, but you could already see the caravans of Corvettes coming from all over as you approached the area.

I brought with me, business cards, flyers explaining the site, a ring binder with pictures of the site so that people could get a little bit of an idea of what the site was like, some Corvette Action Center static cling decals, and shirts.

Response was excellent. I really enjoy this type of event because it gives me an opportunity to not only meet some of our members in the area, but it puts me in direct contact with people that are not forum members but are aware of the site and find it helpful. Feedback was awesome. I think the most common points I heard was that the site was extremely easy to navigate, enormous with tons of helpful information and extremely well organized given the size of the site. It's this type of feedback that I'm extremely proud of because from a design perspective, it's not always easy to efficiently organize all of the information that we have here on the site. I still think that there are some parts that are not quite perfect but as it states in our <a href="http://corvetteactioncenter.com/about.html" target="_blank">About Us</a> page, "we are always in a continuous state of improvement."

What really made me proud was to hear that the site was extremely helpful to people. One of the most common statements I heard was, "I had been looking all over the place for that information and you have no idea how happy I was to have found it on your site." A lot of people wonder why I do what I do with this site and that comment right there, is the perfect explanation for why I do this.

The other interesting thing I was asked periodically was if we were associated with the original Corvette Action Center. I explained to them that we are not related to the original Corvette Action Center at the Bowling Green facility but our objective was basically similar to their's.

The original Corvette Action Center started in 1985 and was designed to field dealer technical inquiries. The beauty of the original CAC was that it provided direct contact between GM/Corvette Assembly and the customer. Eventually, owners could call the CAC if they had a problem with their Corvette.

While this Corvette Action Center does not have the funds to staff an office and pay for a 1-800 number, I built the Corvette Action Center to be a source of information that would be helpful to all owners and enthusiasts regardless of whether or not you were new to Corvettes or a hardcore enthusiast.

The other question I heard often was, whether or not the Corvette Action Center was my full time job. It is not. Well, from a financial perspective it is not. I have a regular job as a web developer for another company that is completely unrelated to Corvettes. Although I wish I could do something with Corvettes that would become a career for me, for now, my regular job is what puts food on my table and clothes on my back. This Corvette Action Center was not designed to do that. I never really wanted it to become a marketing cash-cow like some other sites out there. Instead, I wanted it to become an informational repository that would be educational and professional for all owners and enthusiasts. Based upon the feedback I received this weekend, my goals have pretty much been met.

On Saturday night, there was a VIP dinner for vendors and invited guests. The food was excellent and the presentations by Mike and others very entertaining. I think the best way to describe Mike Yager based upon what I saw is that he's an energetic dynamo. He's always on the go, with a sharp wit and a fine eye in search of the perfect opportunity to joke around.

To highlight the evening, there was also a special life-size 2003 50th Anniversary Corvette convertible cake presented to help celebrate the Corvette's 50th anniversary and the Beatles coverband, "1964 Tribute" took the stage to rock the enormous crowd that overflowed around the building. Although I like a few Beatles songs, I've never really been a big fan, so I took the opportunity to walk around the museum with Adam from the C3 Vette Registry. This was a nice opportunity for me because they took down the chains that normally surround the displays so you could get right up to the cars and check them out in full detail.

I was particularly fond of the two LT5 prototypes that Mike has. It was interesting to see what the original prototype engines looked like as compared to the actual production models.

After the concert, many of the folks that attended the VIP dinner came back into the museum for cake and cocktails. Many of the folks included Corvette magazine editors, authors such as Mike Mueller, Alan Colvin and Michael Antonick, as well as many other well-known figures within the Corvette community.

I spent close to an hour talking with Andy Bolig from Corvette Enthusiast magazine. We chatted about anything and everything regarding Corvettes and the magazine and I really appreciate him taking the time to talk to me.

On Sunday, it was much less crowded, but still extremely productive for us. Gordon Killebrew came down first thing in the morning. I was in the middle of talking with someone and saw him checking out our flyers and business cards. After I finished, he quietly commented, "You know, I used to work in the original Corvette Action Center at the Bowling Green plant; I don't know if you knew that or not." We proceeded to chat for over an hour about the original Corvette Action Center and he shared with me some of the funnier phone calls they received from customers.

Shortly before I left, Ed Baumgarten from MidAmerica, took me on a personal tour of the facility. All I can say is, "WOW". Totally unbelievable. What an excellent setup they have there! I would like to thank Ed for all of his help with getting us set up for this event and making all of the vendors feel at home there. I would also like to thank him for taking the time out of his busy schedule to take me on a private tour of the company.

I have to say that I was extremely impressed with MidAmerica Designs over all. In talking with a couple of the employees, I was informed that everyone there, views the company as their home away from home. There is an incredible sense of pride in everything they do there. The overall feeling I got from everyone is that they don't feel like it's just another job. Putting in extra time is no sweat and making sure the customer is happy and satisified is priority #1. This is something that seems to be instilled from the top down and it's quite refreshing to see a company pride itself on quality of work and establishing a sound customer relationship.

While Ed was showing me their warehouse, I couldn't help but walk through looking up at all the racks thinking, "wow". I asked him what they do when it comes time to take inventory. He just chuckled and said, "we don't like to talk about inventory time here". :L Regardless, the whole company pitches in , and manages to get the job done in about 12 hours. Let me tell you, if you've ever seen the size of their warehouse and the enormous inventory they keep, you will realize the hard work it must take to conduct an inventory count.

The entire operation seems to run smooth and efficient. I was extremely impressed with how an order is handled from the time it comes in to MidAmerica, to the time it takes to locate the part, funnel it through the system, pack it, complete the paperwork and get it on a FedEx truck that is ALWAYS waiting at the shipping/receiving door. I was literally blown away by the entire process.

Overall, the weather could not have been better and the entire experience was not only a joy but extremely valuable to me.

I left at 4:20 pm, ET and started for home. I basically ran I-70 at about 80 mph and my goal was to make it to Columbus, Ohio and crash there for the night. However, by the time I got to Columbus, and interesting situation developed. A black Mercedes with "luxury vehicle" plates came flying up on my rearend just as I was coming out on the eastern side of the city. I pulled over to let him pass and decided to follow him. Unfortunately, I didn't have a radar detector with me so I was "flying blind" the entire trip. I assumed that for him to be moving at the speeds he was moving at, he had to have some type of protection in-line. I quickly caught up to his speed which fluctuated from 85-95 mph at times. He was doing his best to flash traffic in front of him to signal that he was approaching and to move into the right lane. This continued all the way into Pennsylvania for over 2 hours. Once in a while, we'd pick up another driver who would run with us and try to keep up until they had to get off the highway.

Finally, as I approached Somerset, Pennsylvania, I couldn't take anymore. It was at this point that I fully appreciated what the Corvette C5-R drivers must have to endure at LeMans. When driving at those speeds past 18-wheelers, and driving in tight spaces through construction areas, surrounded by trucks much larger than yourself, it takes an incredible amount of concentration to be able to drive safely. By 12:20 am this morning, I came in for a landing and decided to stop following the black Mercedes. I found a Ramada Inn and crashed for the night.

I have to tell you that although I didn't have my Vette with me, that was some of the most enjoyable driving I have ever done. If by some slim chance the driver and/or passenger in that black Mercedes happens to see this:

1. You drive too slow! (kidding)
2. You damn well better have had a radar detector in that car last night!!!

To the guy in the white Chevy Lumina who tagged along with us for the last 1/2 hour of that drive: that was some very impressive driving last night.

I wish I could have continued with you guys but the level of exhaustion I felt was too much for me to have safely continued on.

Just to give you some idea of what the drive was like coming back from MidAmerica as opposed to driving out there, it took me a little over 11 hours to get there. It took me a little over 10 hours to get back home!!!!

I would like to thank Mike Yager and his family for opening up his company to all of the enthusiasts and vendors in the Corvette community and for inviting the Corvette Action Center to attend. I would also like to thank Ed Baumgarten and all of the MidAmerica employees that made this event a success. It was truly a fantastic way to celebrate the Corvette's 50th Anniversary.