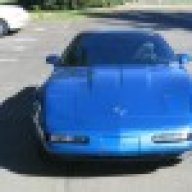 Joined

Jul 23, 2003
Messages

63
Location
Corvette

Quazar Blue 92
Hey all, My 92, automatic, has a problem once it warms up. Within a few minutes of reaching 197 degrees, I start to experience a slight miss. It starts with a small drop in RPM and then recovers. It happen across all RPM speeds, in any gear or in park. If I continue to drive or just sit and idle it gets progressively worse. As it worsens it starts to surge above where the throttle is at or idle if idling. The idle speed also begins to raise up to and above 1000 rpm. Once this problem starts It has to be shut off and sit until totally cold or it continues.

When I drive to work, 10 minute drive, if I try to leave any sooner than about 4 hours it starts missing right away. If parked more than 4 hours it starts occurring once warmed back up.

From reading other threads this is what I've tried so far:

There are no codes
Checked fuel injector ohms both cold and hot, 13 ohms +- .3 on all when cold, 12.5 +- .3 on all when hot
Disconnected O2 sensors and problem still occurs (no check engine light when they are disconnected, Thought that was strange)

The ECM and O2 sensors were replaced about a year ago, no problems until a couple of weeks ago.

Any idea's would be greatly appreciated.................