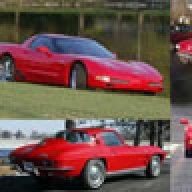 Joined

Oct 11, 2003
Messages

1,895
Location
Corvette

15 Z06, 01 Vert, 63 SWC & 60 ALL RED
Stopped by the body shop to drop off a few things. Got good information that my body pieces from Paragon (Corvette Image) shipped yesterday and will be arriving next Tuesday or Wednesday!!!
Here are a few photos....Below is the inside of the trunk lid. I decided that I wanted to smooth out the inside of the trunk lid as well as the hood. Here is what the trunk lid looks like....
And here is what the hood looks like. Although we are not going any further on the hood until we marry the frame and the body back together to make sure that the stock hood can be used with my stack system. On first look (measurement) it looked like no problem, but before we put any more labor in the hood, I need to be sure.
On the surface the car will look VERY STOCK, but once the hood opens or the trunk lid opens, end of looking stock!
I mentioned earlier that there needed to be some work done on the soft top deck lid to get the hinge area on the outside to match up perfectly with the back of the car that is between the soft top deck lid and the trunk lid.
you can see in the photo below the work being done to make that area match up perfectly with the rest of the area. Evenness with surrounding areas will be achieved as well as gaps being uniform around the openings is the goal.
Harry has his team grind down that area locally and then put some cloth back in and then will build up the height to match.
More to come!!!!
Herb