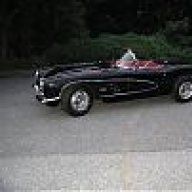 Joined

Dec 24, 2003
Messages

388
Location
Corvette

'59 Blk/Red, '12 Crystal Red GS
Hi All,

Hope you don't get tired of these questions, but I've got a few more about this '71 Coupe that I'm thinking of buying.

A little background: It's a '71 Coupe originally Brands Hatch Geen w/ Saddle interior; it's now Black w/ red interior. THe radio doesn't work, the odometer doesn't work, and the fiber optics don't work. None of these are deal killers for me and I've made my offer (US$23.5K) with the stipulation that I will fix the radio at my cost.

I paid a well now NCRS judge to go look at this car for the second time and he came back with a few observations;

1) Ext paint is VERY good

2) He's concerned about the non-original paint/interior combo and says that some of the dyed interior components are starting, very minimally, to show through to original color. THis doesn't bother me as I know it's a dye job and don't care; I lke the color combo.

3) He reports some rust on the radiator core support, but says it should be fine for "another 25 years. Again, no problem as far as I'm concerned.

4) Also reports some rust on t he rear two (2) body mounts that are riveted in. He was concerned about this and thinks that this fix could be a little pricey.

5) THere is no spare tier or even the spare tire carrier; this is a concern since I'm planning on driving this car back from SoCal to DE.

My questions are: Can someone enlighten me about these body mounts ? I'm not even sure which ones they are but he was specific that they are riveted in. Is this a PITA to fix ? Cost ?

The spare tire carrier doesn't seem to be all that expensive to replace, maybe US$ 250 - 300, but is it a PITA to hang a new one ?

I'm also thinking about revising my offer to him; I never even thought to ask if the thing had a spare tire or not, just assumed it did and now I'll to get a wheel and tire as well as the carrier unit.

Any and all comments will be appreciated.

THanks,

Bernie O.