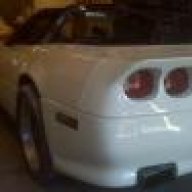 Joined

May 9, 2002
Messages

2,942
Location
Corvette

1984 White Z-51/ZF6-40/Shinoda body
Have any of you found a good solution for and early C-4, to add cooling capacity?
My '84 (warm running, as stock), with this hot 406 (a warm running engine) needs more cooling capacity. It has the factory HD cooling option (the oil cooler).
Already have the cooler thermal switch, and cooler thermostat, and no, there are no leaves; no Hoffa blocking the airflow. The car was totally disassembled.
I am looking for a larger capacity radiator, as using the heater core helps a fair bit.
Has anyone any experience with BeCool radiators? They claim a bolt in replacement, capable of cooling a 700 HP engine.
I am a picky bas...d. I'd like a referral.
thanks in advance.
Mike