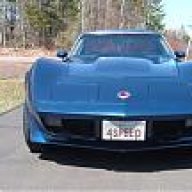 Joined

Sep 13, 2005
Messages

307
Location
Corvette

1974 Metalic Blue L-48 Coupe 4 speed
Hi,

I tried a few times in front of my house to do a burn out at take off. The Vette won't spin the tires. It was bogging the engine instead of turning those wheels.

I know some of you will say. why the hell you want to do a burnout. Well the simple answer for this is. FOR FUN !! Everybody likes a burnout and now I can't and it's embarassing!

Some of you will probably say. let go the clutch quick and give alot of gas. but I don't want to break anything. Would be alot easier if I could let go the clutch smootly and then just by flooring it , the car would start to spin the tires.

Alot of people told me that vette's were built for speed and take off. Because of the indepedent suspension. It makes it pretty hard to spin tires cause it's causing the car to drop and putting some weight on the tires so it sticks to the pavement and goes.

The reason I think it won't spin is because I have Gear Ratio of 3.08's and 255/60 R15 tires. they are wide and brand new tires. so they stick pretty good.

I am currently discussing with someone here on CAC via PM to purchase his 3.70's ring and pinion but still waiting for him to write me back. I might buy those gears from him.

I have close to 300 HP and more than 300 torque in my engine, 4 speed manual transmission with 3.08 rear end ratio on Brand new BF Goodrich Radial TA 255/60R15. The car run's really good, very fast on highway and good acceleration.

Do you guy's think my problem is with gear ratio or Am I to soft on my Car?

I'm about to make a really nice video of my car and it would be a real shame if I cannot include a few burnouts in that video. I can easily do donuts but can't take off on a burnout. Please Help me !!!!!! Please !!!!