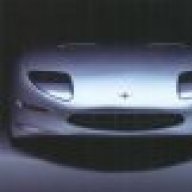 Joined

Aug 2, 2005
Messages

1,767
Location
Pics will be in the post following this one...
Hi guys. I went and checked this car out after work last Tuesday, and was very impressed. This C12 is number 17 of 19 and was built in 2000. It is 1 of only 2 automatic C12s (the other being the blue Speedster/Roadster), however, this is the only C12 to have what is said to be a "Heavy Duty Automatic." I do not know what entirely this entailed... I'm more of a design/body/interior guy, not a gearhead, so I'll leave that to someone else. I looked over the car for nearly an hour, but I may have missed some details, so please excuse any inaccuracies in what I type. (Ex: I looked for rock chips, and never found any. That isn't to say that there aren't any.)
INTRO:
To start this off, I'll briefly go over what led me to checking the car out. I was looking at Dupont Registry, saw it, recognized the dealership name, and decided to check it out. Quite simple really. I looked at the pictures on the dealer's website (which can be viewed here:
http://www.ecarlist.com/cgi-bin/showroom.cgi?mode=show&id=14883&d_id=947
) and was immediately excited about a C12 being in a nearby suburb (Carrollton--on the edge of Addison Circle). In the pictures on the website, the car almost appears to have a slightly nauseating "peppermint" theme. Not the case. The exterior is "Snow Pearl" a pearlescent white and the interior is a mix of "Pagoda" and "Pebble," which was surprisingly nice. If the pictures do not accurately convey the color of the interior to you... per my observation, I would say the interior would accurately be described as a medium-slightly-dark red and the lightest khaki/beige I have seen used in a car. Very pleasant to the eye when viewed in person.
OVERALL SUMMARY:
I can't vouch for the mechanicals, but as far as the condition of the exterior and interior go, I have very few complaints, this car is nearly perfect. With less than 2000 miles, this car is an absolute steal (in my opinion) for the low price of $149,000.
EXTERIOR:
BODY:
The exterior of this car is nearly absolutely perfect. I am a perfectionist as far as the exterior of a car goes, so I will give my honest (and of course, overly uptight, perfectionist) assessment of the body. I have a total of 4 complaints; all minor...
The body panels all line up perfectly. This car has such tight body panel gaps, that I'd swear a Lamborghini Murcielago would turn green with envy. The build quality and the attention to detail were outstanding, I only found one tiny flaw in fit and finish, and you can see it below in one of the pictures, it is essentially meaningless/negligible, but I discovered it nonetheless.
The front bumper, being approximately 2 or 3 inches off the ground had some scrapes as to be expected. The scrapes were not particularly bad. However, the lower lip does have two damaged areas in the paint. One is hardly worth mentioning, but the other (that I took a picture of) is actually something you can feel with your finger. Just to emphasize how nice this car is, this little tiny flaw is the worst flaw I noticed on the car. That's right. This little tiny flaw I didn't even see until I kneeled down to take pictures of the nose emblem is the worst flaw the car has (that I noticed). Try finding the flaw in my other pics, good luck, you'll need it!
My surprise: the doors are incredibly lightweight. You can move them about with less effort than any car I have ever handled--even lighter than the 2 inch thick Toyota Corolla doors! They close with that brand-new car *WOOMP* as well.
The roof had me slightly concerned. You guys all know I have never owned a C5 Corvette, so I had a distaste for all that rubber weatherstripping between the C-pillar and targa top. This car IS still configured as a targa, correct? Either way, the rubber was not nearly pretty enough and uniform enough to be on such a perfect car. I'm not sure if a regular C5 Corvette has uneven weatherstripping like this or not. It looked like it may have been redone.
The headlight covers were absolutely perfect, no rock chips. What surprised me is just how HUGE these headlights are. The large bulb is the size of a floodlight. Totally shocked.
PAINT:
The paint on this car is nearly perfect. I would not call it a mirror finish, as there is some minor orange peel, but I am not for certain it is orange peel. Could the "appearance" of orange peel be solely due to the underlying carbon fiber? I did not see any chips or scratches.
WHEELS, EMBLEMS AND EXHAUST TIPS:
I honestly did not look at each wheel in detail, it really wasn't a concern of mine. They are very cool wheels to be sure, but I can't tell you the condition.
The emblems appeared perfect, it was surprising to find out just how 3D and nice the C12 logo on the back was. The car could use a little detailing around the emblems as you'll see in the pictures, but they do not appear damaged.
The exhaust tips looked nice, but the left one appears flawed. I didn't touch it or look at it in detail, but it appears to have a slight flaw on it. The perfectionist in me didn't like that flaw. Flaw, flaw, flaw. It would probably be an easy fix.
INTERIOR:
Boy oh boy, was this interior ever brand new looking. Having never seen a car with Callaway's upgraded leather interior, I was incredibly impressed. The quality of the leather put every car I have ever sat in to shame. It was simply immaculate from stitch to stitch. I did not detect any flaws, but I did not go through the car with a fine toothed comb. I was careful when inside it and tried to touch as little as possible. The leather luggage was perfect and the bags looked like they had never been used. It is slightly "loud" for use as luggage, but it was very high quality, just like the rest of the interior. The carpet was plush and comfortable. I felt as if I was in an Aston Martin or Bentley.
ENGINE:
It was the cleanest engine I had ever seen in my life. It was cleaner than dishes fresh from the dishwasher. No gunk, no grime. I only wish I could have heard it. I didn't ask Wayne if the car could be started...
ELECTRICAL:
Didn't pay much attention to this...
CONCLUSION:
This is a great car for a museum, or even for a driver. Talk about being the star of a car show. Drive this to a Ferrari show and watch the crowd surround you. Wayne and Hans gave me a full tour of the entire building and in all honesty, it was hard to compare to the Callaway. The styling is perfect and does not look dated in the slightest bit, the color is good, and the condition is nearly brand new. In fact, other than the little damage on the front lip, I would definitely say this car appears as if it had never been driven. If I had the finances to back it up, I know I wouldn't have left that dealership without the keys to that car!
The entire staff at RUF Auto Centre is a pleasure to deal with. I've met Jackie before, didn't see him Tuesday though, and just met Wayne and Hans the other day. I've never been treated nicer by a group of (essentially) salesmen at a dealership. Let me tell you, they treat you more like a friend than a meal ticket. Wayne even asked me if I wanted to see the back room full of cars (how often does that happen?) and Hans let me wander around the area where they were preparing cars at my leisure. For reference: other supercar dealerships in Dallas are less than social in this regard--unless they recognize you as a local hot-shot or a current customer, there's no way you're getting more than a peek from the doorway to the shop. RUF Auto Centre could definitely teach customer service/public relations to some of the other local dealerships in town. ...they should start with the jerks at BMW of Dallas... whew boy...
I recommend any of you local guys to give RUF a call or email, and let them know that you'd like to see the car. They are open Monday through Friday til 7 pm. Their location is VERY easy to find. Ask for Wayne or Jonathan if interested in seeing the Callaway, or even Hans can show you it. You won't want to miss it!