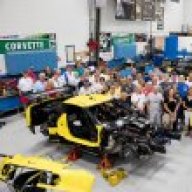 Joined

Aug 26, 2004
Messages

3,488
Location
Weekly Email Newsletter of the National Corvette Museum | Bowling Green, KY
​

​
This Week's Stories...
Corvette Homecoming Two Weeks Away
MiM Diamond in the Rough: Limited Space Left!
Bid on a Piece of Museum Memorabilia
Win a Blade Silver Corvette Coupe
Horsepower Heroes Exhibit Now Open
Is the Next Gen Corvette in Cars 3?
Corvette Store Featured Items
Upcoming NCM Events
Vettes in Perfection Cruise Ins
​
Corvette Homecoming Two Weeks Away
​
Each summer Corvettes come 'home' for an annual event offering a little something for everyone. This year's Corvette Homecoming and Chevy Invitation is slated for June 1-3, 2017 and will be held at the National Corvette Museum.


Though not a Museum-hosted event, enthusiasts can expect a long weekend filled with friends new and old, and loads of activities from a Show & Shine, seminars, Corvette walk around, autograph session and wind-down party.
​

​

MiM Diamond in the Rough: Limited Space Left!
​
Enjoy a three night getaway to beautiful Roanoke, WV August 27-29, 2017 packed full of relaxing and recreational activities. Hiking, kayaking, canoeing, paddle boating, golf, massages and more. A number of side trips are also available.


A large portion of our room block at the Stonewall Resort will drop next week, so if you've been thinking about attending now is the time to sign up!
​

​
Bid on a Piece of Museum Memorabilia
​
The National Corvette Museum is touted as the Gateway to All Things Corvette, and at the entrance of the Museum, welcoming visitors world-wide, are brightly colored pole banners. You can own a Museum entrance banner that was displayed August 2015-August 2016.


The banner is two-sided with the same artwork on both sides. It has a pole pocket at the top and bottom, and two grommets on one side. The banner is 24" wide by 77.5" long. This auction comes with a notarized Certificate of Authenticity.
​

​
​
​
Win a 2017 Blade Silver Corvette Coupe
​
Your next chance to win a Corvette is Thursday, May 25, 2017 when we raffle off a 2017 Blade Silver Stingray Corvette Coupe! Tickets are $100 and the raffle is limited to 1,500 tickets.


As of Thursday, May 18 we've sold 845 tickets.
​

​
Horsepower Heroes Exhibit Now Open
​
As though America's Sports Car isn't fast enough, a number of companies over the years have modified Corvettes to make them even faster. Now through August 18, 2017 is a special 17-car display in the National Corvette Museum's exhibit hall featuring Corvettes modified for performance and speed, including Callaways, Lingenfelters, and Greenwoods. Want to see them for yourself? Make plans to visit us this summer!
​

​
​
Is the Next Gen Corvette in Cars 3?
​
Throughout the history of Corvette, there have been tiny clues planted, almost like an Easter egg in a movie, that tip off the observant enthusiast of what's to come.



Speculation has been growing that the eighth-generation Corvette is on the horizon, as well as the development of a mid-engine GM vehicle. Rumors have been floating around that it could be a Corvette, or even a Cadillac. And while only time will tell what the truth is, enthusiasts are looking high and low for clues. Perhaps that clue can be found in the latest Disney-Pixar flick, Cars 3, set to hit screens June 16, 2017.
​

​
​
Corvette Store Featured Items
​
​
​

​
Upcoming Museum Events
C4 Gathering | May 18-20, 2017
Museum in Motion 24 Hours of Le Mans (France) | June 10-21, 2017 **REGISTRATION CLOSED**
NCM Le Mans Viewing Party | June 17-18, 2017
Museum in Motion Northwest Passage (Oregon / Washington) | July 26-30, 2017
Museum in Motion California Dreamin' | August 18-23, 2017
Museum in Motion 'Diamond in the Rough' (Roanoke, WV) | August 27-29, 2017
23rd Anniversary Celebration | August 31 - September 2, 2017
Museum in Motion National Parks Tour (Arizona / Utah) | September 17-23, 2017
Museum in Motion: Kentucky 1-Lap Tours | October, 2017
Vets 'n Vettes presented by Mobil 1 | November 2-4, 2017
National Corvette Caravan | August 28-31, 2019
View a complete list of events with more in