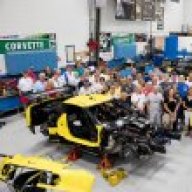 Joined

Aug 26, 2004
Messages

3,488
Location
[h=1]

NCM Quick Links
[/h]
[h=1][/h]
[h=1]Celebrate Military Appreciation Month at NCM[/h]
November is Military Appreciation Month at the Museum and on Thursday, November 3 the Museum and NCM Motorsports Park are hosting a special recognition day for veterans and wounded warriors as part of the 8th Annual Vets 'n Vettes event presented by Mobil 1. Veterans are invited to come to the NCM Motorsports Park between 9:30am and 11:30am CT for complimentary rides around the track in Corvettes.

Following the Corvette laps, a Veterans luncheon, sponsored in part by Don Franklin Chevrolet GMC Buick of Somerset, KY, will be held in the Museum's Conference Center at noon. The lunch is free to veterans and their spouse or guest (as well as Corvette drivers who gave complimentary rides), and features a buffet lunch, presentation of colors and more. All guests must RSVP by Friday, October 30 by calling Bryce at 270-777-4506.

If you would like to join us for the three-day Vets 'n Vettes event November 3-5, additional activities include seminars, a meet 'n greet dinner at the local VFW, road tours, poker run, banquet and participation in the Bowling Green Veteran's Day Parade. Registration is only $20 online here.

​

<tbody class="mcnTextBlockOuter">

</tbody>

[h=1]Why Be a Member?[/h] <article> </article>
Did you know that becoming a member of the National Corvette Museum has many more benefits than simply receiving free admission? While many people enjoy their discount in the Corvette Store, discount on Museum event registration, subscription to America's Sports Car magazine and so much more, it's the friendships and being a part of a huge Corvette family that many of our members enjoy the most.

Check out our short video here and learn why you should be a part of our ever-growing group!


​

[h=1]2017 Torch Red Stingray Coupe Raffle Winner Drawn[/h]
Congrats to Charles T. Newcomb of Borden, IN - winner of today's raffle for a 2017 Torch Red Stingray Coupe Corvette with ticket #132. We sold all 1,500 tickets!



​

[h=1]Your next chance to win a Corvette is Thursday, October 27 when we raffle off a 2017 Admiral Blue Grand Sport Coupe! Tickets are $200 and the raffle is limited to 1,000 tickets.

You can check out our other upcoming raffles online at www.corvettemuseum.org/raffle or call 800-538-3883 during normal business hours.



Trunk or Treat at the Track

[/h] <article> </article>
Join us for our newest event - Trunk or Treat at the Track! Trick-or-Treaters are invited to visit the NCM Motorsports Park on Tuesday, October 25 from 4-6pm to trick-or-treat decorated vehicles in our Paddock.

We are also inviting individuals, businesses, clubs and other groups to decorate their vehicle trunks and hand out candy at the event. We have prizes planned for the friendly competition! Let us know if you are bringing a vehicle by filling out the online form here.
​
<tbody> </tbody>
[h=1]Free Shipping Special for Early Birds[/h] <article> </article>
Get ahead on your Christmas shopping and get FREE SHIPPING when you spend $50 or more! This offer through the Corvette Store ends October 30, 2016.

Some exclusions apply, contiguous U.S. only. Minimum free shipping total of $50 is applied after discounts and does not include shipping costs.


C7 Corvette 3D Emblem Interbay Polo
$62.00
​
[h=1]The BEST Corvette Jack 'o Lanterns[/h]
We're looking for the BEST Corvette themed pumpkins! Submit your entry (must have been created this year) by Friday, October 28 on our website here. We will post all qualifying entries for voting on our Facebook Page on Halloween. The entry with the most votes by 3pm CT wins a $20 Corvette Store gift card!


​
We hope all of our friends are well, safe an unaffected by the flooding and damaged caused by Hurricane Matthew. Our thoughts and prayers go out to those who unfortunately were hit.

For those of you who are NCM Insurance Agency customers, our claims team is standing by to assist you and can be reached by calling 800-543-2644 and following the prompts for collector car claims. You will only need to have your policy number available to be quickly taken care of. Online claims can be filed at amig.com.

Upcoming Museum Events

MiM 1-Lap of KY
October 11-15; October 18-22 and October 25-29, 2016

Vets 'n Vettes presented by Mobil 1
November 3-5, 2016

Museum in Motion: NASCAR in the South
(Charlotte, NC)
May, 2017​

Museum in Motion Northwest Passage
(Oregon / Washington)
end of July / early August 2017​

Museum in Motion California Dreamin'
August, 2017​

Museum in Motion 'Diamond in the Rough'
Roanoke, WV
August 27-29, 2017​

23rd Anniversary Celebration
August 31 - September 2, 2017​

Museum in Motion Lone Star Corvette Club National Park Tour
(Arizona / Utah)
September, 2017​

Museum in Motion: Kentucky 1-Lap Tours
October, 2017​

Vets 'n Vettes presented by Mobil 1
November 9-11, 2017​

View a complete list of events with more information and links to register on our website here.


<tbody>
</tbody>