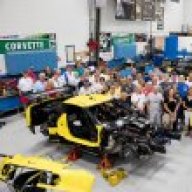 Joined

Aug 26, 2004
Messages

3,489
Location
Win a 2017 Admiral Blue Grand Sport Next Week!
<tbody>
</tbody>
Free Shipping Special for Early Birds
<article> </article>
Get ahead on your Christmas shopping and get FREE SHIPPING when you spend $50 or more! This offer through the Corvette Store ends October 30, 2016.

Some exclusions apply, contiguous U.S. only. Minimum free shipping total of $50 is applied after discounts and does not include shipping costs.

Corvette Pink Ribbon Ladies' Top
A portion of the sales from this Corvette Breast Cancer top goes to support the National Breast Cancer Foundation, Inc.
$20.00
​
Growing an Enthusiast
<article> </article>
You can't drive down the road and pass a sports car without ten-year-old Logan Smutylo pointing it out by name. "He's a car nut," shares his grandmother, Vicky Gee. "He knows the cars he sees on the road."

Logan is the reason Vicky and husband Oscar opted for an R8C Museum Delivery for their 2017 Blade Silver Grand Sport.

"At first I didn't know about the program, and didn't originally opt for the R8C," said Oscar. "But then when I saw you offered a children's program that ties in with the R8C, I decided to add it."

The Ed and Shari Glazer Family Delivery Program was designed to encourage and welcome the participation of children and grandchildren.

Read more about the Glazer Program, and Logan's exciting visit to the Museum online here.
​
Museum in Motion: Diamond in the Rough
Join us for a pre-Anniversary Event road tour in the Roanoke, VA area next August 27-29, 2017! Enjoy outdoor activities like kayaking, canoeing, paddle boating, hiking and golf. De-stress with a massage or body treatment, jacuzzi, sauna or steam room. Ride a boat cruise, enjoy music and drinks, relax at the pool or fire pit. Side trips are also available.

The three night package for two includes a lakeview room, dinner and breakfast buffet each day and all the resort's amenities. $799 for primary registrant and $200 for a guest. Learn more online here.
​
Required Minimum Distributions Can Help Your Museum
One method the Federal Government uses to induce taxation, even when the taxpayer would rather wait, is through forced Required Minimum Distributions ("RMD's") from your IRA or other retirement plans. These annual taxable retirement payments appear complicated; but here's a high level understanding of how RMDs work and a way to make this tax burden benefit the National Corvette Museum. Read more online here.
​
<tbody>
</tbody>
<tbody>
</tbody>