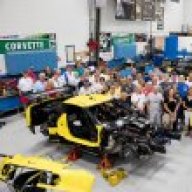 Joined

Aug 26, 2004
Messages

3,489
Location
[h=1]From Your Family to Ours[/h]
​

There is an old saying that if you love something, you set it free. Such is the case of Paula Lizotte's 1978 25th Anniversary Edition Corvette. The much-loved member of Paula's family, affectionately referred to as 'Betty,' joined the Museum family this month after Paula made the difficult decision to donate her.
​
"I started trying to sell her summer of 2015, but no one was serious about buying her. I wanted someone who loves her as much as I love her. I couldn't manage all the expenses of keeping up a classic car properly. She didn't deserve New England where a third of the year is spent in a garage," Paula said.
​
Though Paula had never been to the National Corvette Museum, it seemed like the best place for her Betty. "I'm giving up a little bit of me. She's gone and I'm sad, but she's gone to be a queen. As sad as I was that she's no longer mine, I'm absolutely thrilled she's yours."
​
Read Paula's complete touching story on our website here.
​
---
<tbody>
</tbody>
<tbody>
</tbody>
[h=1]GM Corvette Plant Paint Shop Construction Underway[/h]
On Monday, the first 55 foot, 6,000 pound beam was put into place in what will be the northeast corner of the new paint shop at the GM Bowling Green Assembly Plant. "The new paint shop is half the size of the Plant, adding a half million square feet to our operations," said Kai Spande, Plant Manager. "This is for the customers. The paint technology used for the Corvette is special. Because we're painting carbon fiber and specialized plastics, all off of the body, that demands processes that will only be used here."
​
Read more about this, including when Corvettes will be rolling through the new shop, on our website here.
​
---
<tbody> </tbody>
<tbody>
</tbody>
[h=1]Corvette Winner Drawn[/h]
Congratulations to Jeff Slusser of Flora, IN - winner of our 2015 Torch Red Corvette Stingray Coupe raffle today with ticket #101. We sold all 2,000 tickets.
​
Your next chances to win a Corvette are...
​
January 14, 2016
2016 Shark Gray Stingray. Tickets $200, raffle limited to 1,000 tickets. Only 168 sold so far!​
January 28, 2016
2016 Blade Silver Stingray Corvette Convertible. Tickets $100, raffle limited to 1,500 tickets. Only 254 sold so far!​
February 11, 2016
2016 Torch Red Stingray Corvette Coupe. Tickets only $10! ​
Don't wait until the last minute to get your ticket or we could be sold out!
​
---
<tbody> </tbody>
<tbody>
</tbody>
[h=1]Winterize Your Ride[/h]
The official start to winter is less than a week away... have you winterized your ride?
​
We have some great tips for you, courtesy of State Farm - a sponsor of our NCM Drivers' Safety Academy and supporter of our teen driving safety programs. Check out the complete list of tips online here.
​
If you are putting your car away for the winter - we have Battery Tenders, car covers and other products that will help keep your car cozy through the season. Check out our selection of merchandise in the Corvette Store here.
​
---
<tbody> </tbody>
<tbody>
</tbody>
[h=1]Corvette Store Stocking Stuffers[/h]
C7 Stingray Wireless Optical Mouse
Regular: $49.95
SALE! $39.00
​
Ordering Christmas Gifts? Here are the UPS shipping deadlines for delivery by Thursday, December 24, 2015:
- For UPS Ground Shipping: Monday, December 14
- For UPS 2nd Day Air Shipping: Tuesday, December 22
- For UPS Next Day Air Shipping: Wednesday, December 23​
Orders must be placed by 12:00 Noon Central Time. Only valid in the contiguous US. For in-stock items only.
​
<tbody>
</tbody>
<tbody>
</tbody>
---
[h=1]Holiday Closings[/h]
Just a reminder! The National Corvette Museum is CLOSED on Christmas Eve (December 24), Christmas Day (December 25) and New Years' Day (January 1). We want to wish everyone safe travels, a Merry Christmas and a Happy New Year!
​
---
<tbody> </tbody>
<tbody>
</tbody>
<tbody>
</tbody>
<tbody>
</tbody>
<tbody>
</tbody>