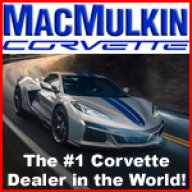 Joined

Aug 22, 2007
Messages

261
Location
[h=1]Museum Featured on National TV[/h]
The Museum will be featured on the Friday, March 4th episode of a new series, Travels with Darley, airing on PBS stations nation-wide. Viewers will be introduced to places, cultural attractions and adventures in a new, more personal way, including destinations throughout Kentucky by five-time Emmy nominated TV host Darley Newman.
"In Bowling Green, I had a memorable ride in my first Corvette, a 1965 Stingray, at Corvette Homecoming and enjoyed seeing more classic cars at the National Corvette Museum."
Learn more about the show and see the promo
online here
.
Reminder!
Americarna's
season premier is TONITE on Velocity Channel! 9pm ET/PT. Learn
more here.
[h=1]Have an Experience with Your Vette[/h]
Similar to our R8C Museum Delivery program, the NCM Experience offers a day in the spotlight with your Corvette. It includes V.I.P. Plant and Museum tours, a one-year individual membership to the NCM, commemorative plaque, silver decal and a photograph in front of the Museum. Experience Corvettes also receive an exterior cleaning and are placed on display on Corvette Boulevard where they are viewable on our web cams.

Cost of the program is $500. Learn more online here!

<tbody>
</tbody>
<tbody>
</tbody>
[h=1]Win a Z06 Corvette Next Week![/h]
Next Thursday, March 10 at 2pm CT we raffle off a 2016 Black Corvette Z06 Coupe! The car features a 6.2 Liter Supercharged V8 650 HP Engine, 8-Speed Paddle-Shift Automatic Transmission, 2LZ Preferred Equipment Package, Jet Black Leather Interior, Chrome Aluminum Wheels with Red Calipers and more. Tickets are $300 and the raffle is limited to 1,000 tickets. We only have 301 left as of Thursday, March 3!

Buy online at www.corvettemuseum.org/raffle or call 800-538-3883 during normal business hours.

<tbody>
</tbody>
<tbody>
</tbody>
[h=1]Museum in Motion: Marble & Glass[/h]
This May we hit the road to Rhode Island for a "Marble and Glass Corvette Weekend" in Newport May 19-22! The trip includes mansion tours, an ocean drive Corvette cruise, Fort Adams tours, America's Cup 12-meter yacht charter, scenic bus tour of historic Newport, shopping on Bowens and Bannister Wharf, a clam bake at the Atlantic Beach Club, Newport Harbor and Narragansett Bay Schooner Sail and more. Only 24 spots remain - learn more online here!

<tbody>
</tbody>
<tbody>
</tbody>
[h=1]Corvette Store Featured Item[/h]
C7 Corvette Quarter Zip Admiral Jacket.
Classic, quarter zip styling, rib at cuff and waistband, suede trim placket and zipper pull make for a sharp yet sophisticated look. Embroidered C7 emblem on the front left chest. 55% cotton, 45% polyester.
$59.00

<tbody>
</tbody>
<tbody>
</tbody>
[h=1]GM Announced 2017 Corvette Grand Sport[/h]
With Corvette Racing in its DNA, the all-new 2017 Corvette Grand Sport is a pure expression of the car's motorsports-bred pedigree. It was introduced Tuesday at the Geneva International Motor Show.

Like the 2015 Le Mans-winning Corvette C7.R GTE Pro race car, the new Grand Sport combines a lightweight architecture, a track-honed aerodynamics package, Michelin tires and a naturally aspirated engine.

Check out the photos and details online here.

<tbody>
</tbody>
<tbody>
</tbody>
[h=1]March Club Events[/h]March 12, 2016: HRE Experience Event | Corvette, Vista, CA
Free, Corvette-focused event with presentations from the best automotive companies in the world. Limited to 100 guests, this event will dive into the important and exciting aspects of the key components of the Chevrolet Corvette. Each registrant will receive an HRE gift pack, catered lunch and one-on-one time with representatives from top companies.

March 13, 2016: Corvettes in Venice: A Vette-Together, Centennial Park Downtown Venice, FL (NCM Attending)

March 19, 2016: Blessing of the Corvettes, George Nahas Chevrolet, Wildwood, FL

March 20, 2016: Citrus Vettes & Camaro Car Club Show, Inverness, FL (NCM Attending)

<tbody>
</tbody>
<tbody>
</tbody>