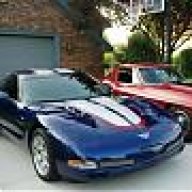 Joined

Jun 7, 2005
Messages

763
Location
Corvette

67 427 tripower,68 427 tripower,04 Z16, 62 340hp
When I sit in my 68, the steering wheel seems like its rite against my chest, and I'm not that big in that dimension. I dont have tilt/tel.
My steering wheel overhangs my seat by about 6 inches"thats w/ the seat all the way back.
My 67 coupe gives me alot more room than my 68.
Anyone else battling this same problem..
Oh ya, I'd like the dimension of the steering wheel to the dash..
Can it be shortened? 68 columns are hard to come by,or would a 67 fit ???