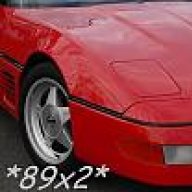 Joined

Feb 18, 2002
Messages

10,357
Location
While there are certainly more details to follow, a sample image was added last night to the callawaycars.com pages of the car :cool
Stay tuned here, and to
www.callawayownersgroup.com
for more information on the 16th Callaway Vehicle in a line of Powerfully Engineered Cars to become avail :cool
Contact: Joseph Molina

JMPR Inc.

818-992-4353

Reeves Callaway

Callaway Cars

860-434-9002

STUNNING CALLAWAY C16 MAKES WORLD DEBUT

AT 2007 GREATER LOS ANGELES AUTO SHOW

First Look at Callaway Cars' Newest Statement of "Powerfully Engineered Automobiles"

OLD LYME, CONNECTICUT (November 30, 2006) – Callaway Cars today unveiled its Callaway C16 – the 16th in an impressive lineup of exclusive, built-to-order Callaway automobiles. Based on the current Chevrolet Corvette platform, the C16 takes performance and style to the next level, with 616 supercharged hp and 582 lb-ft of torque. The new sports car incorporates Callaway's race-proven technologies, superlative craftsmanship and arresting style.

"The C16 says exactly what we want to say about the capabilities at Callaway Cars: It's gorgeous, it has class-leading performance—and it's a true daily driver based on one of the best sportscar platforms ever made." says company founder Reeves Callaway.

The C16 was drawn and modeled by Callaway designer Paul Deutschman, who has a twenty-year portfolio of Callaway designs. "He is the architect of the Callaway look—from the 254 mph Sledgehammer and our C4-based Le Mans race cars to the C7, the C12 and now the C16," says Callaway. The car's handcrafted bodywork replaces every panel of the standard body to achieve its integrated look. The C16 also achieved a new level of manufacturing efficiency. "In making this car we went from CAD design straight to tooling, bypassing a full-sized model—a first for us," says Callaway. "It's tools like PTC's Pro/ENGINEER software, our technology partner, that make such efficient car design possible."

The Callaway supercharged 6.0-liter LS2 V8 produces an impressive 616-bhp at 6,200 rpm and develops 582 lb-ft of torque at 4,750 rpm. The Callaway C16 is capable of 3.3-second 0 to 60 times, and a 10.9-second quarter mile time; its top speed of the manual transmission coupe is 206 mph. Equally impressive is its fuel efficiency rating of 18 city/28 highway. It is emission compliant worldwide.

Yokohama "AdvanSport" 295/30ZR19 (front) and 345/25ZR20 (rear) tires complete the package. "The secret to this level of road-holding starts with the tire," says Callaway. "As a specialist manufacturer, we are honored to have Yokohama be our exclusive tire partner, which gives us access to technology that results in our extraordinary performance numbers."

The car's excellent handling and ride feel are courtesy of the newly developed Callaway/Eibach Multi-Pro coil-over suspension. This advanced spring/damper system features ride height, corner weight, and pitch angle adjustability. The aluminum bodied dampers feature 10 click-position compression and rebound adjustability and have remote mounted reservoirs, allowing the driver to control a range of ride stiffness adjustments for track or road.

Inside, the C16 cockpit is completely retooled in German leather and Alcantara. Also fitted are Recaro Pole Position seats with a choice of harnessing styles. Door sill panels, steering wheel and passenger dash area also carry signature Callaway badging. Each automobile is serialized and identified by its build plaque. C16s are built to order. Clients choose body color and interior appointments to individual taste.

The C16's Callaway exhaust system is manufactured from stainless steel and features Callaway's signature Double-D exhaust tip design. As demonstrated by the car's horsepower throughput, the exhaust system is the least restrictive and is generally known as the best-sounding solution for C5 and C6 generation Corvettes.

To bring the Callaway C16 from 200+ mph to rest, Callaway 6-piston front and 4-piston rear calipers grip 355mm diameter rotors. Super-lightweight Callaway Dymag wheels, the lightest road wheel in the industry, are fitted in sizes 19-inch x 10 front and 20-inch x 12 rear. The Dymag wheel features a remarkable hybrid of forged magnesium centers around carbon fiber rims - another example of Callaway bringing their race experience to road car service. Dymag has been supplying advanced road wheels to Callaway since 1986.

Available with two 6-speed manual transmission options (one incorporating the Z51 Performance Package's shorter ratios in the first four gears) or the choice of a 6-speed automatic transmission with paddle shift. The Callaway C16 delivers the feeling of a fully integrated driver's car, maintaining the company's legendary hallmark of easy-to-drive, super high-performance road cars.

Callaway C16 automobiles are built by Callaway facilities in California, Connecticut, and Germany. The Callaway C16 is available exclusively through Callaway Cars' authorized dealer network throughout North America, Callaway Competition in Leingarten, Germany, and CorvetteTotal, Bonstetten, Switzerland. Pricing for the C16 Coupe, Very Nicely Equipped, is $119,865 USD.

All Callaway C16 components are available individually as part of new Corvette purchases, or for current Corvette owners, through Callaway authorized retailers and installers. Callaway is an internationally recognized brand known for its unique ability to consistently transform the ordinary into the extraordinary. From component and system engineering through complete vehicle design and development, Callaway specializes in uncovering performance potential. For additional information on Callaway Cars, its automobiles and dealer locations, call 860-434-9002 or visit

www.callawaycars.com

.