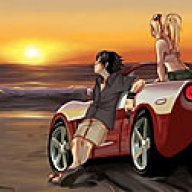 Site Administrator
Staff member
Administrator
Joined

Sep 16, 2000
Messages

13,790
Location
Corvette

1990 Corvette ZR-1
New 'Vette challenges Europe's car royalty
December 22, 2007
motoring.co.za

Chevrolet has officially announced the 2009 Corvette ZR1, to be released in the US in the third quarter of 2008, calling it "an American supercar that not only establishes new benchmarks for production-based power and performance, but challenges global competitors."
Sadly, we're not likely to see it here since there are at present no plans to build a right-hand drive model.
Chevrolet general manager Ed Peper said proudly: "The ZR1 redefines what an American supercar can deliver with performance that betters exotics costing two, three or four times as much – and can still be driven as a daily commuter ."
"Preliminary testing shows the ZR1 beats the previous Corvette Z06 in every performance category," said Peper, "from acceleration and braking to cornering grip and top speed.
"It all boils down to the power-to-weight ratio and the ZR1's is exceptional – better than the Porsche 911 GT2, the Ferrari 599 and even the Lamborghini LP640.
"In fact the ZR1 is expected to be the first production Corvette with a top speed of more than 200mph."
We'll save you the maths – that's 322km/h in metricspeak.
All that urge comes from a 6.2-litre, supercharged V8 that breathes via a positive-displacement Roots-type supercharger with a new, four-lobe rotor design developed by forced-induction specialist Eaton specially for this engine and a central, horizontal intercooler.
It revs to a dizzy (by American standards) 6600rpm thanks to specially strengthened, lightweight valvegear and kicks out an estimated 462kW and 823Nm.
ZR1 engines are hand-built at GM's performance build centre, using time-consuming processes usually justified only on racing engines.
For instance, the cast-iron cylinder liners are pressed into the aluminium block and finish-bored and honed with dummy cylinder heads installed to reproduce the minute variations in the block caused by torqueing down the heads, for better piston ring sealing.
It drives via a twin-disc dry clutch similar to those in high-performance, shaft-drive motorcycles such as the BMW boxers and Moto Guzzi V-twins.
The specially strengthened, six-speed manual gearbox with a very tall first gear for steam-catapult launches with a minimum of wheelspin.
Top gear, however, is shorter than that of the Z06 so the ZR1 will reach its top speed in sixth rather than in fifth.
Mixed aluminium and steel platform
The ZR1 is built on the same mixed aluminium and steel platform as the Z06 and has similar independent front and rear suspension with aluminium upper and lower control arms.
The ZR1's spring and damper settings, however, are tuned for the car's steamroller-wide tyres with electromagnetic adaptive ride control as standard that GM says makes the ZR1 surprisingly supple around town while still delivering cornering grip in excess of 1g.
The brakes are built around carbon-ceramic discs, usually only seen on exotics and racing cars.
They're made of a carbon fibre-reinforced ceramic silicon carbide material, 394mm in diameter in front and 380mm at the rear, weigh much less than conventional cast-iron platters, cannot corrode and should last the life of the car.
They're gripped by six-piston front and four-piston rear callipers, each painted a special blue exclusive to the ZR1, visible through the car's 20-spoke alloy rims, which are shod with Michelin Pilot Sport 2 tires developed specifically for the ZR1 - P285/30-R19 in front and P335/25–R20 at the rear.
A bright silver paint finish is standard, chrome is an option.
Instantly recognisable
The ZR1 has a raised, all-carbon-fibre bonnet with a clear, polycarbonate window showing the top of the intercooler with "LS9 SUPERCHARGED" embossed on either side and the Corvette crossed flags on the engine cover.
Exposed carbon-fibre with just a clear coat to protect it from UV light is used for the roof, roof bow and front splitter. The widened front wings are also carbon-fibre under the blue paint and have special, dual lower vents.
A full-width, body-colour rear spoiler incorporates a high-mounted third brake light.
The interior has a special instrument cluster with a boost gauge, a ZR1 logo on the rev-counter and a speedometer that reads to 220mph (370km/h top you, Cyril) – all three of which are repeated in the head-up display.
The only options on offer are the chrome wheels and a "luxury trim" package that includes power-adjustable, leather-trimmed sport seats in a choice of four colours and embroidered with ZR1 logos, satellite navigation and Bluetooth connectivity.
By the numbers
Each ZR1 will have a special VIN number incorporating a sequential build number – very important to collectors and serious car nuts. Thus a ZR1 with a serial number ending in 0152 would be the 152nd example off the production line.