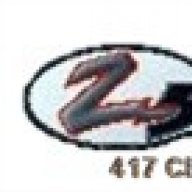 Joined

Jan 30, 2001
Messages

8,236
Location
Corvette

1987 Z51 Silver Coupe
From
Inside Line
:
Best 'Vette Yet?
By
Ed Hellwig
Date posted: 11-18-2004
(Don't ask me why it's only just now getting into the news stories.

)
Its unique Daytona Sunset Orange paint may not show it, but look closer and you'll see that this Corvette has a more chiseled look thanks to numerous design changes that are subtle but effective. (Photo by Scott Jacobs)
When the second-generation Chevy Corvette debuted in 1963, there was no mistaking it for its predecessor. One look at the Corvette Sting Ray and you knew it was leaving the past behind in a cloud of smoke. Ditto for the '68 "Mako" and the fourth-generation model that debuted in '84. The fifth-generation model (1997-2004) wasn't a dramatic styling departure, but its substantial leap forward in refinement was enough to define it as a distinct generation.
With that kind of
historical framework
in mind, the introduction of the all-new sixth-generation 2005 Chevrolet Corvette (or C6 as it's otherwise known) was cause for great anticipation. How would it break from the past and define its generation? Styling? Performance? More refinement?
Upon seeing the 2005 Chevrolet Corvette for the first time, it appeared as though a set of fixed headlights were going to be its trademark characteristic, but surely there was more lurking underneath the surface? We assumed so, and eagerly awaited the chance to unlock the secrets of the C6 Corvette for ourselves. Visions of precisely clipped apexes and perfectly executed heel-and-toe downshifts played on our personal Speed Channels as we welcomed our test car draped in all its Daytona Sunset Orange glory. With a smaller overall size, 400 horsepower under the hood and enough suspension tweaks to impress a NASCAR pit crew, the C6 promised the test-drive of a lifetime.
And then the bottom dropped out. We jumped inside, glanced down and saw the one thing that makes any enthusiast wince with disappointment — a shifter with a button on top. Yup, that's right, it was an automatic.
Now, we know the statistics — roughly three-quarters of all Chevy Corvettes are sold with automatics — but a sports car with an automatic just ain't the same. Working the gears yourself is one of the few aspects of modern performance cars that hasn't been completely handed over to computer programmers. Well, in this case it had been.
We brushed aside this unfortunate setback and returned to assessing the merits of eight years of work by Chevrolet's top engineers. Did their dedication result in yet another leap forward for the nameplate, or is it merely an evolution that breaks from the Corvette's history of transformational generations? A long test-drive definitely was in order, so we ventured out on some of California's best, and more importantly, desolate roads to give the 2005 Corvette room to stretch its legs and show its stuff. If it didn't distinguish itself under these conditions, it never would.
Not surprisingly, it did well, OK, very well. Like most high-powered sports cars, it swallowed up vast stretches of Central California blacktop in blinding succession. We learned quickly that the C6 Corvette has the kind of top-gear passing power that would bring out the lead foot in anybody. Plant the pedal at 75 and it takes off like it was digging in at the starting line of a drag strip, tipping your head back and nearly chirping the tires. It was one of the few situations where the dreaded automatic wasn't so bad as it executed full-throttle gear changes with abundant force and zero elegance — in other words, just like us working a manual.
The brutal acceleration it showed at speed translated to similarly impressive results at the actual drag strip. Run under nearly ideal conditions, the Corvette ripped off a 4.8-second 0-to-60 time and a best quarter-mile of 12.8 seconds at 107 mph. Still not
Viper
numbers, but right in line with
the last Corvette Z06 we tested
. Throw in the six-speed gearbox and it's reasonable to expect that the Vette C6 could drop another tenth or two.
Comparisons to last year's Chevy Corvette Z06 should come as no surprise given the C6's nearly identical horsepower (400) and torque (400) ratings. Its LS2 V8 is yet another standout in a long line of overachieving small-block Chevy V8s. Slightly larger cylinder bores result in 6.0 liters of displacement, while typical hot-rodder tricks like more cam lift and higher compression help the all-aluminum engine deliver its stampede of power. A 6,500-rpm redline gives you plenty of room to play, and no matter where you are in the power band, there's more than enough power to light up its fat set of run-flat tires.
A star performance at the racetrack was expected, but even on our extended test-drive the LS2 showed why sticking with its somewhat low-tech design isn't such a bad idea. All the right sounds make their way to the driver's ears whether you're up against the redline or mixing in with traffic. Unlike some European sports cars, the Corvette's engine doesn't sound like some piece of detached machinery playing over the stereo speakers, this is an engine that you can feel. A revised exhaust system not only gets rid of the ugly transversely mounted muffler at the rear, it filters out low-rpm droning that can make cruising at certain speeds tiresome.
Allowing some of the LS2's soul to poke through gives the Corvette an authentic sports car feel, but combine it with the optional Z51 suspension package and it puts you right up against the threshold of annoyance. Smooth pavement isn't a problem, but any hint of less-than-perfect blacktop gets the cabin rumbling something fierce. Although nearly every piece of the Corvette's suspension is new, it doesn't translate into a distinctly different feel compared to the previous model. For better or worse, it still feels like a Corvette.
In its defense, the Z51 suspension package is intended for those who are willing to give up a little comfort in the name of performance. Included in the package are retuned springs and shocks, thicker sway bars, larger cross-drilled brake rotors, a shorter final drive ratio and auxiliary oil, transmission and power steering coolers. In short, it's the equivalent of last year's Z06 and it rides and drives like one (the Chevrolet Corvette Z06 will arrive as a 2006).
Unless you possess above-average driving skills, the extra capability of a Z51-equipped Corvette isn't likely to matter much. There's simply so much performance packed into this car that you can't possibly hope to exploit it on anything but a proper racetrack with plenty of room for mistakes. We pushed it hard when the road permitted, but we couldn't shake the feeling that we were barely scraping the surface of its capabilities — a situation that's both impressive and a bit boring.
Slicing through the cones at the test track, we had more leeway to probe the limits without fear of dumping the gleaming new Vette into the weeds. As expected, it produced fast speeds through the cones, but even then it left us with mixed impressions on its overall feel. Some drivers marveled at its precision and predictability while others chastised its steering as heavy and its brake pedal as soft. Its best 60-to-0 stopping distance of 117 feet is good, but the last Corvette Z06 we tested consistently turned in stops under 110 feet. Maybe it wasn't broken in properly or didn't like the track surface, but regardless of the reason, it just never clicked like our last Z06.
Similar dissension arose when it came to assessing the Corvette's revamped interior. After listening to one journalist after another harp about the cabin for eight years straight, we expected that this would be the area where the Corvette C6 would leave its mark with a revolutionary step forward in design and execution. We expected too much.
To their credit, the designers left the instrument cluster alone. It was perfect before and it remains so, with large clocks for the tach and speedo along with smaller dials for auxiliary readouts like oil pressure, water temperature and fuel. Our tester also sported the optional head-up display that's part useful and part dangerous. Having your speed spelled out directly in front of you is a nice feature once you get used to it, but the engineers also threw in a "track mode" that includes a real time g-meter to show you just how hard you're hitting those apexes. It might have sounded good in a planning meeting, but the idea of guys in 400-hp Corvettes blasting through canyons while staring down at their g-meters is scary. We turned it off and left it off.
The rest of the interior design is hard to fault as it's simple, uncluttered and easy to use. The dual-zone climate controls don't require a manual to operate and even the optional navigation screen was simple enough to operate without much research. We also liked the addition of smaller details like a one-touch lane change turn signal, auto xenon headlights and heated memory seats.
But as much as the interior is improved in the C6 Corvette, there are still far too many instances of cost-cutting that leave the cabin looking more like that of a great $30,000 sports car instead of a good $50,000 one. Materials quality is lacking, as the center console is decorated with a cheap plastic shroud that would barely pass muster in a Mitsubishi, while most of the buttons and switches still look and feel like they were pulled from the
Malibu
parts bin. One editor noted that although the leather on the seats isn't bad, she only had to look as far as our $30K long-term Toyota Solara to find superior hides.
Seat comfort is an issue as well, as the Corvette's buckets proved mediocre at best during our week with the car. "After two hours behind the wheel I had to get out and walk around to ease my back," one editor wrote. "Take a short trip to slice up a local canyon and the seats feel fine, but any longer than that and their comfort starts to fade quickly," wrote another. Cheap materials are one thing, but average seats are unacceptable when you're paying this kind of money. Additional complaints were lodged against the Chevy Corvette for its lack of auto up-down windows and manual reclining seat backs.
Ridiculing a sports car for seemingly trivial issues might seem like we're missing the point, but in this case it is the point. If there was one area in which the Corvette C6 could have made a name for itself, it was in the details. With unassailable performance credentials and an evolutionary shape, there wasn't much room to work with, but there was room nonetheless. After eight years of waiting, we expected something dramatic, but the 2005 Chevrolet Corvette remains a first-class performer hitched to a second-class cabin. Oh well, there's always the C7 to look forward to — in 2012.