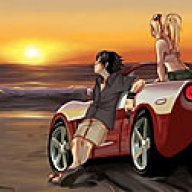 Site Administrator
Staff member
Administrator
Joined

Sep 16, 2000
Messages

13,790
Location
Corvette

1990 Corvette ZR-1
Corvette's appeal is its excellence
NEW VEHICLE REVIEWS

By Russ Heaps
SPECIAL TO THE WASHINGTON TIMES
March 30, 2007
Has there ever been a more prolific, more enduring or more successful halo vehicle than the Chevrolet Corvette?
For more than 50 years Corvette has brought attention to the Chevrolet brand. Sure, there were a few model years there in the late 1970s and early 1980s when only rabid Corvette loyalists and amnesiacs would trade in their used Corvettes for new ones -- so lackluster was the build quality and so compromised was passenger comfort.
The public, though, never gave up on the Corvette and neither did Chevrolet. While muscle cars and other wannabes came and went over the decades, the Corvette has not only survived, it has evolved and improved. Today's Corvette is arguably the best sports car value on the planet and has suffered few compromises to get there.
When the first Corvette rolled out of its Flint, Mich., production facility in June 1953, it sported a 150-horsepower in-line six-cylinder engine and a two-speed automatic transmission. The entire production run of 300 Corvettes that first year was convertibles. The base price was $3,734.
The current Corvette has a base sticker of $53,335. The heater and AM/FM audio system with CD player and MP3 capability are included. Also included are dual-zone air conditioning, driver information center, cruise control, leather six-way power sports seats, power accessories and a leather-wrapped tilt steering wheel.
Topping the list of performance credentials is the Corvette's 6.0-liter V-8, producing a whopping 400 horsepower and 400 foot-pounds of peak torque.
The standard transmission is a six-speed manual, but a driver-shiftable six-speed automatic with steering wheel-mounted paddles is a $1,250 option. Acceleration with either transmission is asphalt melting. Stop to 60 mph requires less than five seconds. Considering the amount of grunt under the hood, fuel economy is surprisingly reasonable. The Environmental Protection Agency rates the automatic transmission versions at 17 miles per gallon in the city and 27 mpg on the open road. The manual manages to squeeze out an extra mile per gallon in both city and open-road driving.
Intimidating not only for its straight-line acceleration, the Corvette is a superb handler in the corners as well. Three distinct suspension packages geared to varying driving styles are offered. All three are based on a four-wheel independent suspension architecture. The standard setup is a nearly ideal blend of acute handling and passenger comfort. A $1,995 option, Magnetic Selective Ride Control uses sensors to read road surfaces and instantaneously adjust the damping to meet those changes.
Cross-drilled brake rotors are also included. Adding $1,695 to the bottom line, the Z51 performance package is about as close to track-ready as it gets and offers more aggressive dampers and springs, larger stabilizer bars, Goodyear Eagle F1 Supercar EMT tires, enhanced cooling and the larger cross-drilled brake rotors.
Four-wheel disc anti-lock brakes with traction control and Active Handling are standard. The power-assisted rack-and-pinion steering is speed sensitive for ease of maneuvering in tight spaces and added control at speed. In addition to the usual dual front air bags, side-impact air bags are also included in the base price.
Part of the Corvette's appeal is its functionality. This is a car that can be driven on a daily basis. Even when riding on the Z51 suspension, it provides acceptable levels of comfort. Despite its low stance, entry and exit don't require gymnastlike flexibility.
Once settled in, driver and passenger have gobs of shoulder, hip and legroom. The power adjustable seats are deeply sculpted for optimum support. Every control and switch is at the driver's finger tips. There are even cup holders.The glove box has been enlarged this year. With the convertible top raised, there are 11 cubic feet of trunk space. This is reduced to 5 cubic feet when the top is lowered, but it's usable space.
A stand-alone option last year, the power convertible top has been folded into the $5,540 Preferred Equipment Group for 2007. It requires flipping two latches to release the top from the windshield header, but then the press of a button lowers it beneath a hard, flush panel. For drivers who don't mind manually lowering the top, it operates with ease.
Other add-ons in the Preferred Equipment Group are the head-up display, auto-dimming mirrors, upgraded Bose audio system with six-disc in-dash CD changer, power telescoping steering wheel, heated seats and XM satellite radio.
Unlike the Corvettes of even a decade ago, the new Corvette is a no-excuses sports car. Its drivability, styling, creature comforts and reasonable price make it an everyman's car. Its handling and acceleration place it in the top tier of production performance cars.
Rarely do performance and value cross paths, but they do in the Corvette Convertible. While it hasn't always been that way, today it's a car you can feel good about aspiring to and fully enjoy once you've made the plunge. As a bonus, your family and friends won't call you nuts when it comes to trade-in time and you buy another one