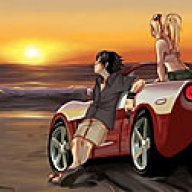 Site Administrator
Staff member
Administrator
Joined

Sep 16, 2000
Messages

13,894
Location
Corvette

1990 Corvette ZR-1
First Drive: Andrew Frankel: Corvette Z06
200mph of US muscle takes on the world
The Sunday Times
March 5, 2006
Given that it's one of the few places I visit where I can make myself understood, I never cease to be amazed by how foreign I still find America. I've been to islands off the east coast of Africa and felt more at home. Don't misunderstand me, I enjoy myself in America but I usually come back feeling I'm leaving not so much another country as another planet.
There can be few aspects of American life that illustrate the vast disparity as perfectly as its car culture. Last year 60% of the cars sold in America by its largest car company, General Motors, weren't cars at all, but what they call trucks — pick-ups and SUVs that would be as suited to British roads as a St Bernard to a greyhound track.
So spare a thought for those selling us that most American of automotive products, the Corvette. For 50 years the Vette has been the working-class hero of the US car enthusiast. It stands for freedom, power and the right to have Porsche drivers look down their noses at you.
The problem is that these days General Motors, along with most of the US motor industry, is in deep trouble and cars like the Corvette are going to have to start earning their living in the world's largest car market, otherwise known as Europe.
The standard Corvette C6 has been on sale in the UK for more than a year and it looks mighty tempting, offering a 400bhp V8 motor and a top speed of 180mph for just £46,550. But the one we've been waiting for is this Z06, a car with a simply extraordinary proposition.
For less than £60,000 it offers a 7 litre V8 pumping out 512bhp. Its appearance hides the fact that while the standard car has a steel structure, the Z06's is made from aluminium. Additionally, carbon fibre, magnesium and titanium have been used to save further weight.
They create its real secret, which is its flyweight 1418kg. The most powerful Ferrari, the 540bhp 612 Scaglietti, carries more than 400kg extra bulk, which means that while it has 293bhp for every tonne, the Corvette has an astonishing 361bhp. And it is more than £100,000 cheaper.
Yes, if the stars at the end of this review were awarded for effort rather than results, the Z06 would earn the full five. As you can see, however, something got badly lost in translation.
I like big American sports cars, even those that are dynamically pretty incompetent, which is most of them. During my two days in the Z06 I also drove a standard Corvette convertible that shook so violently on a bumpy road that I feared a puncture. But I still enjoyed it for its easy nature and unpretentious honesty. And that is where the Z06 trips up. This is a car that wants to play with the big boys. It has big-boy power and, as its ability to hit 60mph in under 4sec and 200mph show, it has big-boy speed.
What it lacks are those things you can't point to on a specification sheet. It doesn't have the right balance, for instance. It lacks feel, too, that sense of connecting the driver to the road that Porsche, in particular, does so well. And it lacks poise: it's blindingly quick around a racetrack, but even on smooth dry French lanes its suspension was constantly jiggling me around. So what it would be like on a wet, bumpy British back road is something I'd rather not experience.
When the road runs true and the monumental power reserves can be sampled you can see its point, but then you'll hit a bump or a corner and wish you were in something a lot slower and a lot more fun.
The left-hand-drive-only Corvette Z06 can be ordered now for £59,000 for delivery in September. But I would advise anyone who wants a Vette to settle for the cheaper, charming and altogether more satisfying standard car. On paper the Z06 looks like the performance bargain of the decade; in reality it is shaping up as a bit of a disappointment.
Vital statistics
Model Corvette Z06
Engine type
7011cc, eight cylinders
Power/Torque
512bhp @ 6300rpm / 469 lb ft @ 4800rpm
Transmission
Six-speed manual
Fuel/CO2
14.1mpg (combined) / 350g/km
Performance
0-62mph: 3.9sec / Top speed: 200mph
Price
£59,850
Verdict
Better by far on paper than the road
Rating 3/5
Date of release September
The opposition
Model Porsche 911 Carrera S £65,860
For
Still the only truly convincing everyday supercar
Against
Ubiquity. Uglier than most cars in its class
Model BMW M6 £81,715
For
Massive power from landmark V10 engine; quite practical
Against
Ugly, expensive relative to M5 saloon; iDrive operating system
Source:
http://www.timesonline.co.uk/newspaper/0,,2779-2067566,00.html