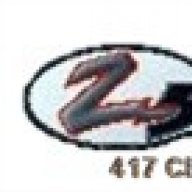 Joined

Jan 30, 2001
Messages

8,236
Location
Corvette

1987 Z51 Silver Coupe
From
CarAndDriver.com
:
Specialty File: Lingenfelter 402 C6 Corvette
Just can't wait for the new Z06?
BY RON KIINO
PHOTOGRAPHY BY AARON KILEY
April 2005
We have no doubt that our
February issue
prompted heavy breathing among many gearheads. That installment featured coverage on no fewer than eight vehicles with at least 265 horsepower, three with a minimum of 425, and two that were smuggling 500. That's the kind of artillery we usually reserve for one of our supercar shootouts. We're also confident that pages 74 to 76 were quickly dog-eared—that spread presented photos of a bright-yellow
2006 Chevrolet Corvette Z06
, a 500-hp banana fast enough to split two scoops of vanilla without getting streaked.
What makes the new, Kentucky-built Z06 so special is that it carries exotic credentials at an everyday price. Generally, cars whose résumés boast titanium connecting rods, a forged crankshaft, a dry-sump oiling system, six-piston front brake calipers, front fenders made of carbon fiber, and an aluminum and magnesium frame cost upwards of six figures. Not the new Z06. It's expected to be less than 65 large. Lest you think that's too much for a car from the bow-tie division, consider that that sum buys the aforementioned 500 horses (at 6200 rpm) as well as 475 pound-feet of torque (at 4800), and according to our performance predictions, ratings of 0 to 60 in 3.8 seconds and a quarter-mile score of 11.7 seconds at 127 mph. The only other domestic-built sports car to put up similar qualifications is the $143,345 Ford GT, which hits 60 in 3.3 seconds and the quarter in 11.6 at 128. With just a vague grasp of arithmetic, one can deduce that the new Z06 offers substantially more bang for the buck.
Whether you have the bucks or not, you won't be able to enjoy the bang from a new Z06 until this fall, some six months after this issue gets hoisted from newsstands. But what if all the Corvette crazies out there didn't have to wait for the new Z06? What if a Vette with Z06-like performance existed right now? Would that pique some interest in Corvette clubs? It piqued ours.
When Jason Haines from Lingenfelter Performance Engineering (LPE) gave us a ring and asked if we'd like to test the company's modified 510-hp 2005 C6 Corvette, we said, "How does yesterday sound?"
As its name suggests, the 402 C6 Corvette features an engine that displaces 402 cubic inches, in this case a tweaked LS2 V-8 from the current Corvette. In the LPE, the 16-valver actually displaces 403 cubic inches, but the Indiana tuner liked the sound of 402 because it was a popular size among small-blocks of the past. (It's the same reason Chevy refers to the new Z06's 7.0-liter small-block as a 427, even though its cubes add up to 428.) To achieve its 402-
plus-
cubic-inch displacement, the Lingenfelter 6.6-liter has a 9.6mm-longer stroke and a minuscule increase in bore (101.7mm versus 101.6). Complementing the larger cylinders are a forged crankshaft, forged pistons, billet connecting rods, CNC-ported LS2 cylinder heads with a slightly higher 11.0:1 compression ratio (versus 10.9:1), and Comp Cams dual valve springs with titanium retainers. Comp Cams also supplies the hardened pushrods and the hydraulic roller camshaft. Other enhancements include LPE heavy-duty rocker-arm stands, ported exhaust manifolds, a 3.54-inch throttle body, and an LPE high-flow cold-air intake system. All told, LPE added $17,938 worth of engine mods. Exhaling through a Corsa stainless-steel exhaust, the custom engine puts out 510 horsepower at 6000 rpm and 500 pound-feet of torque at 4600—increases of 110 horsepower and 100 pound-feet—ratings verified by an LPE engine dynamometer report that, along with a chassis dynamometer report and a two-year/24,000-mile warranty, is included.
To keep those 510 horses from stampeding over barriers and road signs, LPE equipped its Vette with $16,123 in chassis changes. A Lingenfelter plastic rear-wheel mini-tub kit makes room for larger, 345/30R-19 Michelin Pilot Sport tires mounted on 12.0-by-19-inch HRE forged aluminum wheels; the fronts measure 10.0-by-18 and wear 285/35R-18 Pilots. Keeping the big shoes planted to the pavement are Koni double-adjustable shocks and Addco front and rear anti-roll bars, with Brembo 14.0-inch-disc, four-piston-caliper front brakes augmenting stopping power. Rounding out the upgrade list are an LPE heavy-duty driveshaft and a 3.90:1 final drive.
Like every other Lingenfelter product we've tested over the years, the $85,781 402 C6 Vette drove very much like its stock counterpart—it was simply a helluva lot faster. So it was like taking a standard Vette and turning it up to eleven. The throttle response is even more neck-wrenching, and there is not one spot in the rev range where this engine feels flat. Also, the exhaust note had a wonderful dual personality: Its growl was much more intoxicating than the stocker's when the gas was pinned, yet it remained surprisingly serene at cruising speeds.
Compared with a standard Z51 coupe, which reaches 60 in 4.1 and the quarter in 12.6 at 114, the LPE struck 60 in a scorching 3.7 ticks and the quarter in 11.9 at 122. Thus, our estimates that the Z06 will do 60 in 3.8 and the quarter in 11.7 at 127 seem quite accurate, especially since its projected curb weight of 3150 pounds is about 200 less than the LPE's. Furthermore, the LPE also handled and stopped like a champ. With the suspension and brake alterations and the gigantic tires—larger front and rear than the Z06's Goodyears—the LPE recorded an even 1.00 g on the skidpad (0.98 for stock) and a short 163-foot expanse from 70 to 0 mph (versus 164).
At almost 86 large, the LPE Vette not only is 20 grand over the projected cost of the new Z06 but also resides in 911 Carrera S land. Still, in a car that is so ridiculously fast and so easy to drive, not wanting to wait never came at such an attractive price.
Lingenfelter Performance Engineering, 1557 Winchester Road, Decatur, Indiana 46733; 260-724-2552;
www.lingenfelter.com
LINGENFELTER 402 C6 CORVETTE
Vehicle type:
front-engine, rear-wheel-drive, 2-passenger, 3-door coupe
Price as tested:
$85,781
(base price*: $61,149)
Engine type:
pushrod 16-valve V-8, aluminum block and heads, port fuel injection
Displacement:
403 cu in, 6606cc
Power (SAE net):
510 bhp @ 6000 rpm
Torque (SAE net):
500 lb-ft @ 4600 rpm
Transmission:
6-speed manual
Wheelbase:
105.7 in
Length/width/height:
174.6/72.6/49.1 in
Curb weight:
3341 lb
Zero to 60 mph:
3.7 sec
Zero to 100 mph:
8.5 sec
Zero to 150 mph:
20.8 sec
Street start, 5-60 mph:
4.3 sec
Standing 1/4-mile:
11.9 sec @ 122 mph
Braking, 70-0 mph:
163 ft
Roadholding, 300-ft-dia skidpad:
1.00 g
*Base price includes all performance-enhancing options.​