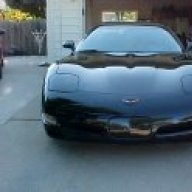 Joined

Sep 3, 2004
Messages

3,010
Location
Corvette

2000 Black Coupe; W/6-Speed
I just changed my oil a couple of days ago in my 2000 C-5 LS-1 with a filter AC PF-46S and put 7 quarts in the crankcase and it appears to be maybe a half quart over
; should this be;
or will it hurt anything?
I first put in 6 quarts and checked it and it appeared to be a quart low; so I added an half quart and rechecked it and it still appeared to be low so I put the rest of the quart in and checked it and it seemed alright but I checked it later and it appears to be about a half of a quart over now.
With the clean clear oil it is somewhat hard to tell
; not to mention my eyeballs are not quite as good as they use to be :ugh
I think
the last time I changed it I put on a AC PF-44 but since that has been replaced with the PF-46S that is what I used this time but would that have had more capacity than the PF-46S, does the

S

designate

SHORT?
I am thinking a half of quart is not a big deal but wanted to make sure before I drive it too much. Any comments on this would be greatly appreicated as long as their constructive not destructive please; I already feel like an idiot :duh
I look forward to all you comments, and help.
Bill