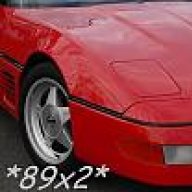 Joined

Feb 18, 2002
Messages

10,357
Location
...there were two of these Callaways on eBay today - now there is ONE :eek
Here is the remaining one:
http://cgi.ebay.com/ebaymotors/Chev...oryZ6154QQssPageNameZWDVWQQrdZ1QQcmdZViewItem

The History Of this Callaway Blazer

The 1993 Callaway SuperNatural Blazer is a unique expression of the Callaway SuperNatural concept in the mid-sized Blazer platform. Developed and executed by Callaway for an established client who appreciates both performance and unique presence, the SuperNatural Blazer remains one of a kind. Its 383 cubic inch Chevy small block,converted to multi-port fuel injection using GM's PCM6 Powertrain Control Module, made 425 brake horsepower on Callaway's SuperFlow engine dynamometer, with 446 lb-ft of
torque. Working with Delco Electronics engineers, the engine's performance was matched with the PCM's management of the 4L60E four-speed/overdrive automatic transmission
including raising the shift points to complement the balanced and blueprinted SuperNatural engine's increased rpm. It was tuned to meet applicable tailpipe emission standards.

In addition to its 4.030 bore by 3.750 stroke engine dimensions its specification includes big valves in ported, flowed and polished heads, revised camshaft, fabricated headers and a stainless steel dual exhaust system with catalytic converters and Borla CVX mufflers.

To complement the Callaway SuperNatural Blazer's performance its safety and handling were enhanced with an internal padded rollbar and a set of 17 inch Boyd's billet aluminum wheels mounting high speed Bridgestone tires. The Graphite gray exterior received a full width billet grille with hidden headlights, body color bumper covers, billet license plate frames and a rear roll pan. The interior has a leather trimmed Boyd's billet steering wheel matching the wheels and Boyd's pedal covers. Exterior paint was matched and detailed
to show-quality standards by Turnpike Auto Body who turned out many of Callaway's show cars.

After delivery to its first owner the Callaway SuperNatural Blazer has proved its highly satisfying qualities by accumulating many more miles than other vehicles in his collection of high performance late model vehicles, although still having only 55,800 miles from new. The collection is maintained by an experienced staff and the SuperNatural Blazer has always been kept ready and regularly maintained for use on short notice.

With only 11.6 pounds per horsepower the Callaway SuperNatural Blazer is a unique combination of performance and all-around utility. It is one of a kind – tractable and wellbehaved in daily driving, comfortable and well-equipped, with all the accoutrements of modern driving, yet capable of exhilarating bursts of speed and distinguished by refined butdistinctive visual appearance. It turns heads as quickly today as it did in 1993, whether sedately cruising or when unleashing its 425 horsepower.